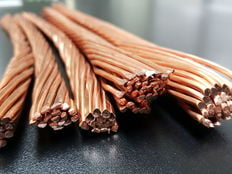 The iPath Series B Bloomberg Copper Subindex Total Return ETN (JJC A) jumped nearly 5% in October, good for one of the best performances among industrial metals exchange traded products, but investors may want to be careful about joining the copper party right now.
Some analysts are growing concerned that global troubles could drag down the industrial metal as well. Along with the trade concerns, copper prices were weakening on softening global economic data. The base metal is a significant component in many industries, including construction, and is widely seen as a barometer for global economic health.
"The mood in base-metals markets has turned so miserable that copper-mining giant Freeport-McMoRan Inc. turned to a local gospel choir to add some cheer as the industry gathers in London," reports Bloomberg.
Due to copper's widespread use, particularly when it comes to home building and commercial construction, it's a good measuring stick of how well the economy is doing.
"For traders, miners and investors attending LME Week this year, there hasn't been much else to celebrate, at least in the short term. The mood is a reversal from a year ago, as demand for most metals suffers due to the U.S.-China trade war," according to Bloomberg.
Providing Support To JJC
What could provide some support to JJC into year-end is the widespread nature of copper shortfalls. Data indicate mining activity of the red metal is slumping throughout the world, excluding North America.
"An improvement in economic conditions, which is in everybody's interest in this world, has the potential for having a major near-term uplift in copper prices," said Chief Executive Officer Richard Adkerson in an interview with Bloomberg. "We're not predicting it, we're not running our business on that, but I think it's a real possibility."
ETF investors sensing an opportunity in copper can also gain exposure to the metals and mining space through miner-related ETFs, such as the SPDR Metals & Mining ETF (XME A-), which is designed to track the broad metals and mining segment, and the Global X Copper Miners ETF (COPX B+), which takes a more focused approach to copper miners.
This article originally appeared on ETFTrends.com.
---
Content continues below advertisement