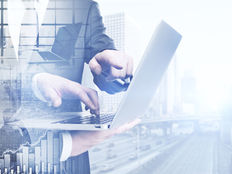 BMO and REX Shares via MicroSectors today launched the MicroSectors FANG+ Exchange Traded Note (FNGS), the first and only FANG+ linked ETN. The NYSE® FANG+™ Index includes 10 highly liquid stocks that represent industry leaders across today's tech and internet/media companies, including Facebook (FB), Apple (AAPL), Amazon (AMZN), Netflix (NFLX), and Google (GOOGL), at 10% each. The goal is to provide a better barometer of tech.
The index's underlying composition is equally weighted across all stocks, providing a unique performance benchmark allowing for a value-driven approach to investing. While a few of the largest stocks can dominate the performance of indices weighted by market capitalization, equal-weighting provides for a more diversified portfolio.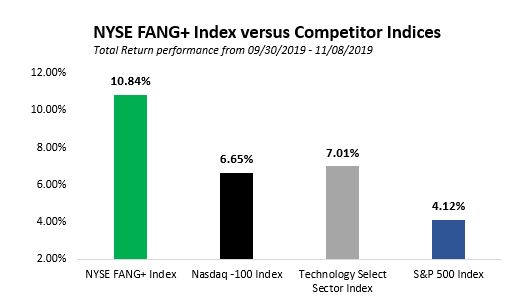 ---
Content continues below advertisement
Expanding on how FNGS fits into a portfolio, Scott Acheychek, President of REX, explained, "I see FNGS as an alternative for tech sector investors and traders that utilize products linked to Tech Select and Nasdaq 100. Bigger picture, Tech index investing (related ETFs (QQQ B+) & (XLK A)), has dramatically changed in recent years. The Nasdaq 100 index historically has been very tech-focused but has evolved to now include stocks like Pepsi, Starbucks, and Costco, which are top 25 holdings in the Nasdaq-100 Index (related ETF: QQQ)."
"In addition, GICS classifications has altered the tech sector investing by segmenting FAANG stocks to three different sectors. While Technology Select Sector Index (related ETF: XLK) has "tech" in its title, the only FAANG stock included in the index is Apple. The index contains Information Technology stocks, so it has top 5 holdings of Visa & MasterCard. I personally do not want soda, coffee, or credit card companies in my tech allocations."
Invest In Big Tech
The current view sees the FANG+ lineup as a pure way to trade and invest in big tech. "We originally launched the 3x/-3x FANG+ products (FNGU & FNGD) as an alternative to current tech leveraged trading products. As a result of their popularity, and with feedback from clients, we decided to expand our FANG+ product offering to include beta-1 or 1x products," said Acheychek.
Acheychek would go on to explain how the popularity of social media and demand for more processing power, essentially the demand for pure-tech investments, has grown significantly. However, the tech index landscape has changed dramatically in recent years, as well. As a result, the Nasdaq-100 has expanded beyond its traditional tech-only approach by including many companies not typically associated with the tech industry.
"This expansion has altered the tech-only exposure that investors have come to expect from the popular QQQ products," Acheychek notes. "In addition, changes to the GICS sector classifications have forced the five FAANG names to be included in three different sector classifications."
"We brought this product because we kept hearing from clients who wanted long-only concentrated exposure to innovative tech and tech-enabled companies. This is precisely what the NYSE FANG+ Index offers. We are excited to expand our offering to now include 1x FANG+ and continue our partnership with BMO as issuer, and ICE Data Indices, LLC."
Related: Apple And Microsoft Power This Big Tech ETF
"Recently, the equity market has been heading higher helped by strong earnings from global tech leaders," Acheychek adds in regards to thoughts on the current marketplace. "NYSE FANG+ is outperforming Tech Select and Nasdaq by 4% each during Q4 as the biggest tech names in the world have been rallying significantly."
"If you invest in technology indices or their related ETFs, you have to ask yourself if you are getting the exposure you desire. I want my tech index and related products to contain all tech not beverage, toy, and credit card stocks."
This article originally appeared on ETFTrends.com.