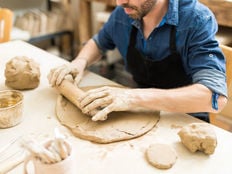 Over the summer, investors probably learned more about yield curves than they wanted to, but a key recession indicator, the inverted yield curve, is flattening as yields are rising. The move portends to a risk-off sentiment that has been permeating the markets after a stronger-than-expected third quarter earnings showing and improving negotiations in a U.S.-China trade deal.
Is an inverted yield curve still a threat?
"The curve did invert, but it didn't invert long enough or deep enough to send a signal of a recession," said Donald Ellenberger, head of multisector strategies at Federated Investors.
That being said, however, it's not an opportune time for investors to smash the risk-on pedal to accelerate their gains.
"It's dangerous to say it is different this time," Ellenberger added.
The yield curve became the talk of the financial markets starting in May and can still be a threat moving forward.
"The 10-year yield dropped below the 3-month yield in May and stayed there for nearly five months," a Bloomberg report explained. "This past week, though, the 10-year yield climbed roughly 0.36 percentage point higher than the 3-month yield—the largest positive gap since January. The gap between the 10-year yield and the two-year yield, meanwhile, reached roughly 0.25 percentage point, its highest level since July."
---
Content continues below advertisement
Investors, however, can get more tactile with their bond allocation. The default maneuver, especially during a volatile summertime, was seeking safe-haven assets like bonds.
Investors looking to gain broad-based exposure to bonds can look at funds like the ProShares S&P 500 Bond ETF (SPXB B). The fund seeks investment results that track the performance of the S&P 500®/MarketAxess Investment Grade Corporate Bond Index, which consists exclusively of investment grade bonds issued by companies in the S&P 500.
However, investors can also get the smart beta strategies via fixed-income ETFs. The Invesco Multi-Factor Defensive Core Fixed Income ETF (IMFD ) and the Invesco Multi-Factor Income ETF (IMFI ) are recent additions to the issuer's lineup of multi-factor bond ETFs. Both new ETFs track in-house indexes.
IMFI follows the Invesco Multi-Factor Income Index. That benchmark "is designed to provide multi-factor exposure to fixed income securities in the following weights: 25% in mortgage-backed securities, 25% higher-quality US investment grade, 25% high yield, and 25% emerging markets debt," "according to Invesco":https://www.invesco.com/portal/site/us/financial-professional/etfs/product-detail?productId=IMFI.
Each of the bond market segments represented in the new ETF has its own criteria for assessing quality and value traits, the factors emphasized by the new ETFs. Last year, Invesco also introduced "eight multi-factor bond ETFs":https://www.etftrends.com/smart-beta-channel/invesco-launches-smart-beta-fixed-income-etf-suite/ that focus on favorable value and quality characteristics.
This article originally appeared on ETFTrends.com.