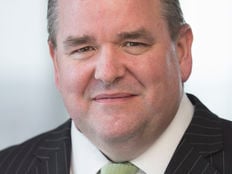 Jim Ross, one of the pioneers of the exchange-traded fund industry and the man behind the first U.S. listed ETF (SPY), announced today that he will be retiring after 27 years with State Street Global Advisors. He will leave his position of executive vice president and chairman of Global SPDR at the end of March 2020.
In addition to being a key influencer in building the ETF industry, Jim is one of the nicest people you've ever met. Over the years, he has made it his mission to forge friendships in the industry and personally assist younger people in reaching their career goals. Personally, I hope he keeps his hand in the industry.
Jim first joined the State Street team in July 1992. He was later sent to assist with the little side project, the SPDR S&P 500 ETF (SPY A), marking the beginnings of a decades-long commitment to helping investors and the investment community better understand and access the new ETF investment vehicle.
"I am deeply grateful for the opportunities I have had during my career at State Street," Jim said today. "Every success I was part of came down to working alongside amazing teams and great leaders who embraced innovation and collaboration and were dedicated to serving clients. I am looking forward to my next chapter which will undoubtedly include remaining engaged in the ETF industry, but also devoting more time to my non-profit work. I leave behind the best teams and clients in the business and an organization that will continue to innovate with purpose and deliver with excellence on behalf of those great clients, stakeholders and investors around the world."
Ron O'Hanley, CEO and president, State Street, said without question, Jim has been one of the most influential figures in the investment management industry.
"I have known Jim for many years and I am constantly struck by his dedication to clients, his focus on building and developing teams and his passion for creating solutions for investors of all types," O'Hanley said. "His role in creating many of the world's first ETFs ensures he will go down in history as an instrumental player in perhaps the most important product innovation the industry has seen. The ETF today provides a vital diversified investment product for investors across the spectrum and for that we, and the industry, owe Jim a great deal."
Cyrus Taraporevala, CEO and president, State Street Global Advisors, added Jim's contribution to the history of financial services is irrefutable.
"He is a titan who has played a key role enabling institutional and individual investors to invest in new and unique manners, with greater precision of exposures and liquidity," Taraporevala said. "We are extremely proud of his accomplishments in helping to create many of the world's first ETFs and his impact at State Street will be felt long after he has bid farewell. We wish him the very best in his retirement; he has earned it."
Jim currently serves as chairman of the board for State Street Global Advisors Funds Management, Inc., State Street Global Advisors' Registered Investment Advisor, and as chairman and chief executive officer of State Street Global Advisors Funds Distributors, LLC, State Street Global Advisors' registered broker dealer.
In these roles, he has been responsible for leading State Street Global Advisors' engagement with ETF stakeholders including regulators, mutual fund and ETF Boards of Directors, industry associations, key clients, partners and the media.
He has done a great job leading State Street Global Advisors' positioning on important issues related to ETFs and is responsible for advancing State Street Global Advisors' long-term ETF strategy and innovation.
Prior to joining State Street in 1992, he worked for Ernst & Young as a senior accountant, responsible for auditing investment companies and insurance companies. He holds a Bachelor's degree in Accountancy from Bentley College.
This article originally appeared on ETFTrends.com.
---
Content continues below advertisement