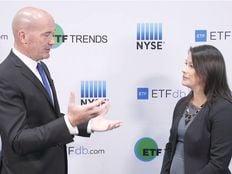 When expanding their line of products for investors, money managers can fall back on what they're good at. At Nuveen, the fund provider has tapped into its expertise in socially responsible investment strategies with a suite of exchange traded funds that track environmental, social and governance principles.
"One of our core competencies is socially responsible investing. We've been in the space for over 50 years and have a really deep understanding of what it means to investors to align with their values and their investments," Margaret Leung, Vice President, Nuveen ETFs, said at the 2019 Schwab IMPACT conference.
For example, the Nuveen ESG U.S. Aggregate Bond ETF (NUBD B+) helps fixed-income investors pair their bond investment needs with environmental, social and governance, or ESG, principles.
Investors can also fill out their equity portfolio with U.S. ESG equity-related ETFs, such as the Nuveen ESG Large-Cap Value ETF (NULV B), Nuveen ESG Large-Cap Growth ETF (NULG A-), Nuveen ESG Mid-Cap Value ETF (NUMV ), Nuveen ESG Mid-Cap Growth ETF (NUMG B-) and Nuveen ESG Small-Cap ETF (NUSC B), which screen companies of various market capitalization and asset categories for environmental, social and governance principles.
The Nuveen ESG International Developed Markets Equity ETF (NUDM A-) and Nuveen ESG Emerging Markets Equity ETF (NUEM B) also align investors' international equity investments with their values.
At Nuveen, the money manager employs a number of other ESG criteria to better target companies that exhibit socially responsible characteristics. For example, Nuveen employs an ESG rating to capture an issuer's performance on key ESG risks relative to peers, a controversy score that captures an issuer's exposure and response to event-driven controversies, a controversial business investment component that captures an issuer's activity in industries that may cause significant social harm, and a low-carbon criteria that captures the carbon intensity of an issuer based on involvement in certain industries.
Additionally, the three ESG factors cover three separate broad categories. Environmental refers to climate change, greenhouse gas emissions, resource depletion, including water, waste and pollution, deforestation. The social aspect covers working conditions, including child labor, community and indigenous populations, operations in conflict zones, health and safety, employee relations and diversity. Lastly, the governance factor is based on executive pay, bribery and corruption, political lobbying and donations, board diversity and structure, tax structure.
The ESG factors are an all inclusive categorization, so investors should not see this as something like an exclusionary based investment approach. Furthermore, the responsible investment and ESG-related investment strategy is not indented to sacrifice performance or lower returns for the sake of achieving their goals – ESG investments have even shown to generate improved risk-adjusted returns over time.
Watch the interview between ETF Database Co-CEO Tom Lydon and Margaret Leung:
---
Content continues below advertisement