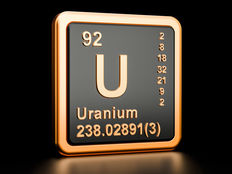 A new ETF launched today on the New York Stock Exchange that is a targeted play on the uranium mining sector.
The launch of the North Shore Global Uranium Mining ETF (NYSEArca: URNM) is a collaboration between Exchange Traded Concepts, a leader in providing white label ETF solutions, and North Shore Indices, Inc.
URNM offers efficient access to a global basket of companies in the uranium industry. This fund offers a thematic play on potential nuclear power demand growth and uranium supply deficits.
The ETF tracks the North Shore Global Uranium Mining Index, which is a focused uranium mining index. The index holds both miners and holders of physical uranium. It is currently tilted towards junior miners.
Uranium, as a commodity, has long been misunderstood due to the complexity and opacity of the nuclear fuel cycle. After experiencing a peak price of nearly $140/lb. in 2007, prices have declined by over 80%, mainly due to oversupply. According to Numerco, as of this December, the spot price of physical uranium was approximately $26/lb.
A Unique Play On Uranium
Tim Rotolo, CEO & Founder of North Shore Indices, said when they surveyed the market, they recognized that there was a void.
"The existing indices on which products were based, in particular the SOLURANT, had been tilted towards Nuclear Power right at the moment when uranium miners offered the most interesting investment opportunity," Rotolo told ETF Trends. "Our objective at North Shore Indices is to be very intentional about our index construction."
In comparison to SOLURANT, Rotolo said the North Shore Global Uranium Mining Index is tilted towards junior miners and has a nearly pure play focus.
"The end goal of URMNX's construction was maximizing participation in the ultimate recovery of uranium prices as the supply deficit causes physical uranium prices to revert back towards the marginal cost of production," he said.
Focused on companies with exposure to the uranium sector, this newly created Global Uranium Mining ETF should allow investors to benefit from potentially favorable uranium fundamentals. As the world's thirst for clean, 24×7, emissions-free sources of alternative energy continue to grow, nuclear power is emerging as a potential means to meet this demand. According to the World Nuclear Association's most recent Nuclear Fuel Report there are 444 operating nuclear reactors, with 54 under construction, 111 planned, and 349 proposed.
Rotolo said they were excited to work with Exchange Traded Concepts on the URNM ETF.
"The fund represents a timely launch that will offer a broad range of investors access to a much-needed unique play on the uranium sector," Rotolo said. "After a multi-year bear market, we believe that the uranium sector is at an inflection point. The fundamentals of the industry have improved on the back of strong nuclear power demand growth and global supply cuts which have pushed the market into a deficit. Given the current state of uranium mining economics, a considerable price rise will be required if new mines are to be brought on line to meet the future supply needs continued." 
"We are thrilled to be working with the North Shore Indices team to bring this timely fund to market," said J. Garrett Stevens, CEO of Exchange Traded Concepts. "Great colleagues and great ideas are the true drivers of ETF success," continued Stevens. "We're very pleased to add North Shore Indices and URNM to our growing list of affiliates and innovative ETF solutions."
This article originally appeared on ETFTrends.com.
---
Content continues below advertisement