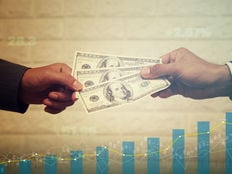 Investors can get caught up in the short-term movements of the market, which makes it easy to get caught in making a rash decision when it comes to loading and unloading ETFs. When playing the dividend ETF game, it's necessary to not just look at funds that offer the highest dividends, but also those that look to sustaining growth like the WisdomTree U.S. Quality Dividend Growth Fund (DGRW A).
DGRW seeks to track the price and yield performance of the WisdomTree U.S. Quality Dividend Growth Index. The index is a fundamentally weighted index that consists of dividend-paying U.S. common stocks with growth characteristics.
"Dividend growth is nice if you're along for the ride, but it can be challenging to identify future dividend-growth leaders," wrote Alex Bryan in Morningstar. "A record of consistent dividend growth is often a good sign, but requiring a lengthy dividend-growth record can preclude investments in firms that recently started paying dividends or whose fundamentals have improved."
"This exchange-traded fund favors highly profitable stocks with durable competitive advantages that should have the capacity to raise their dividends and generate attractive returns over time," Bryan added. "But it ignores firms' records of past dividend growth, which reflects managers' willingness to raise their dividends and the stability of the underlying businesses."
Reasons for using DGRW:
Gain access to the current investment landscape of U.S. large cap dividend growing companies by applying quality and growth screens
Use as a complement to high yielding dividend strategies or as a replacement for large cap quality strategies
That growth aspect is paramount to DGRW's focus—ensuring that dividends are able to increase in the long-term, broad picture.
---
Content continues below advertisement
"At WisdomTree, we believe in the power of dividends to compound investor returns over time," WisdomTree noted in the fund's case analysis. "In 2013, we sought to create a solution to an increasingly important problem we found with standard dividend growth strategies: identifying characteristics that target future dividend growth rather than relying on backwardlooking screens that tend to omit the companies with the fastest rates of dividend growth."
"The WisdomTree U.S. Quality Dividend Growth Fund (DGRW) was designed to identify companies that WisdomTree believes have the ability to grow their dividends over time," the analysis added. "DGRW's annual index screening process focuses on earnings growth estimates and quality variables, with constituents selected and then weighted by indicated cash dividends to incorporate a valuation discipline like that of our broader dividend Indexes."
This article originally appeared on ETFTrends.com.