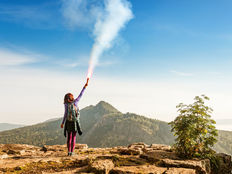 Investors got very familiar with the notion of an inverted yield curve in 2019, especially when you bring the word "recession" into the mix. However, some market experts think the tried-and-tested recession signal could be sending a false alarm.
"I don't believe there is a recession coming," said Alex Ely, chief investment officer for U.S. small to mid-cap growth equity at Macquarie Investment Management. "Consumers are not extended. Unemployment levels are low and wage growth is high so we are optimistic."
There's certainly a dichotomy that exists between what the market is doing and how the economic fundamentals are stacking up. On one hand, the major indexes are sensitive to U.S.-China trade war movements and on the other, unemployment levels are at historically low levels—a sign that the economy isn't hinting at a recession.
Even a data-dependent Federal Reserve is hesitant to continue lowering interest rates according to their last meeting's minutes. The central bank cut rates for a third consecutive time, but weren't definitive on further rate cuts.
"Two things stood out to me with their last decision. First, rather than stressing the downside risks to growth and inflation, their outlook is more balanced—so they've cut this time with a view of remaining on hold for the foreseeable future. And second, there's a view that rates are now appropriately accommodative, which means they think they've bought enough insurance going to stay on hold into 2020," said Edward Al-Hussainy, senior interest rate and currency analyst for Columbia Threadneedle.
That isn't to say, however, that Al-Hussainy doesn't sense that the economy is slowing. Especially when it comes to the global landscape, there is substantiated evidence of slowing global growth in nations like Europe and Japan.
"I think, at best, that things in the U.S. economy are deteriorating at a slower pace," says Al-Hussainy. Outside of the U.S., in places like Europe and Japan, economic data is lackluster. Moreover, there's no certainty of the phase 1 China-U.S. mini-deal getting approved. "I'm fairly comfortable saying that additional cuts may be possible," he says.
While the economy continues to hum, the bond markets aren't downplaying the importance of the inverted yield curve just yet. There is still a penchant for yield when it comes to the credit market, especially since Treasury yields have sunk to lows.
"Credit is definitely flowing into the economy," says Brett Lewthwaite, chief investment officer for Macquarie fixed income. "The bond market rarely gets recessions wrong, but the chase for yield may be keeping the credit markets going."
---
Content continues below advertisement
Yield-Generating Bond ETF Strategies for a Lower-for-Longer Outlook
Fixed-income investors should be prepared for negative rate world and consider suitable exchange traded fund strategies to incorporate into a diversified portfolio.
In the recent webcast, How to Find Attractive Income Opportunities in a Negative Rate World, Matthew Bartolini, Head of SPDR Americas Research, State Street Global Advisors, pointed that with rates falling and credit spreads tightening, all major fixed income sectors have posted positive returns in 2019. The recent rally even saw high yield push credit spreads to levels 29% below long-term averages.
Despite the recent spurt forward that lifted global developed equities to all-time highs, investors will continue to grapple with an uncertain environment, slow growth, benign inflation, and low rates. Growth in 2019 is at its lowest since 2009, and the 2020 outlook is below the median and continues to be revised lower. Risks remain at all-time high and investors will still have to manage uncertainty, especially policy events upending sentiment globally.
Bartolini also believed that the economy can still chug along as global governments maintain accommodative measures to fuel further growth albeit at a slower pace. However, he pointed out that a slowdown extends beyond the U.S. as global economic sentiment remains weak. Additionally, 2020 earnings estimates may be too optimistic and will likely be downwardly revised.
"Because governments and central banks are firmly committed to keeping the party going, a US recession is unlikely. But, data still indicates an economic slowdown," Bartolini added.
Given the current backdrop, the recent strong bond returns have also pushed interest rates below both their longer-term averages and levels from a year ago, forcing investors to look elsewhere for yield opportunities. U.S. core aggregate bonds even registered their best gains since 2011.
However, with the Fed on hold and still-slow growth dynamics constraining the long end of the curve, Bartolini argued that the yield curve is likely to slope upward but stay flat in 2020.
"Our base case is a yield curve in stasis, and it should continue to reside within the tight range it has traded in since June of 2018," Bartolini said.
Due to the long bull rally in the fixed-income markets, Bryan Novak, Senior Managing Director, Astor Investment Management, underscored the shrinking premiums between short- and long-term Treasuries. The Treasury market has historically offered an attractive premium to hold longer duration Treasuries, but it is not evident in recent years as the spread tightens.
Dan Suzuki, Portfolio Strategist, Richard Bernstein Advisors, pointed out that it's not just in the U.S. that this is happening. Global yield curves are also flattening with above 75% of countries showing sovereign bond 10-year and 2-year yield curves below 100 basis points.
In the current environment, Bartolini warned that fixed-income investors should not rely too heavily on long-term duration fixed-income assets as the risks don't justify the rewards.
"Overextending duration may present an uncompensated risk as low yields may not offset any duration-induced price losses if growth surprises or macro risks abate," Bartolini said.
Meanwhile, high-yield assets that typically offer more attractive income opportunities may also expose investors to heightened risks.
"The tightening of spreads and strong returns has pushed high yield's correlation to equities higher, making them more susceptible to equity drawdowns," Bartolini added.
Consequently, Bartolini advised investors to seek income through diversification. Taking a balanced approach to risk management may be the most beneficial strategy in 2020 for the portion of the portfolio that is meant to provide income, stability, and diversification.
Looking forward, Novak believed managing risk from interest rates, credit, and macroeconomic events will be key components that will drive portfolio adjustments. Specifically, when interest rates are seen as moving higher, the strategy will reduce portfolio duration or less interest rate sensitivity. When credit spreads tighten, which is good for credit, the portfolio will take on more credit risk – and vice versa. Lastly, in a stable to improving the economic environment, the strategy will increase exposure to dividend-paying equities.
As a means to actively balance risk and still generate attractive yields, Bartolini highlighted a number of actively managed ETFs to create a bundled solution that leverages active management in the core, income and liquidity sleeves of a portfolio, including the SPDR DoubleLine Total Return Tactical ETF (TOTL B+), SPDR SSgA Income Allocation ETF (INKM A) and SPDR SSgA Ultra Short Term Bond ETF (ULST B+).
Additionally, investors should not that being active can take many forms, and with the advent of specific fixed-income sector ETFs, anyone has the ability to tailor core Aggregate bond-based portfolios for the year ahead. Targeted bond ETFs include options like the SPDR Portfolio Intermediate Term Corporate Bond ETF (SPIB), SPDR Blackstone/GSO Senior Loan ETF (SRLN A-), SPDR Portfolio Mortgage Backed Bond ETF (SPMB A) and SPDR Bloomberg Barclays Emerging Markets Local Bond ETF (EBND A)
Financial advisors who are interested in learning more about attractive income strategies can register for the Thursday, December 5 webcast here.