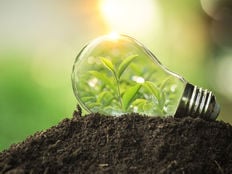 PIMCO launched a new active ETF on Thursday that seeks maximum current income, consistent with preservation of capital and daily liquidity while incorporating PIMCO's ESG investment strategy.
The PIMCO Enhanced Short Maturity Active ESG ETF (NYSEArca: EMNT) aims to offer higher income than traditional cash investments, with a modest increase in risk and focuses on issuers with high quality environmental, social, and governance (ESG) practices.
EMNT follows the success of PIMCO's Enhanced Short Maturity Active Exchange-Traded Fund (MINT A-) and invests in high-quality money market instruments and short-term fixed income securities. The fund blends PIMCO's active fixed income management with its disciplined ESG investment framework. The framework favors issuers identified by PIMCO as best-in-class, with robust environmentally conscious practices, strong corporate governance, and industry-leading social policies.
Sustainable Investor Priorities
"Sustainable investing is becoming a priority for many investors who seek positive returns alongside the ability to drive positive change," said Jerome Schneider, Managing Director and Head of Short-Term Portfolio Management. "This active ETF is designed to provide capital preservation, daily liquidity, and attractive return potential to investors who seek to invest in companies with best-in-class ESG practices."
Schneider will manage the fund, along with Jelle Brons, Executive Vice President, and Portfolio Manager; Andrew Wittkop, Executive Vice President and Portfolio Manager; and Nathan Chiaverini, Senior Vice President, and Portfolio Manager.
EMNT complements PIMCO's dedicated ESG platform, launched to meet investor demand for ESG focused investment solutions, and follows the recent launch of PIMCO's Climate Bond Fund.
PIMCO has been active in responsible investing for decades, launching one of the first socially responsible fixed income funds in 1991.
This article originally appeared on ETF Trends.
---
Content continues below advertisement