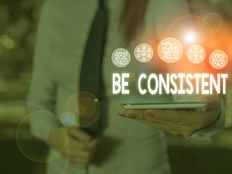 In the most recent FOMC meeting announcement on Dec. 11, the Federal Reserve held interest rates constant following its two-day meeting, and implied that no action is likely next year amid persistently low inflation and solid growth.
After three rate cuts over the last a year, the Federal Open Market Committee on Wednesday met widely held expectations and kept the funds rate in a target range of 1.5%-1.75%.
In its statement discusses the reasons for the decision, the committee indicated that monetary policy is likely to remain steady for a period of time, though officials will continue to monitor conditions as they develop, typical language used in previous announcements. The decision to keep rates unchanged was unanimous, following several dissents in recent meetings.
"The Committee judges that the current stance of monetary policy is appropriate to support sustained expansion of economic activity, strong labor market conditions, and inflation near the Committee's symmetric 2 percent objective," the statement said.
"The Committee will continue to monitor the implications of incoming information for the economic outlook, including global developments and muted inflation pressures, as it assesses the appropriate path of the target range for the federal funds rate," the committee added.
Fed Chairman Jerome Powell and his colleagues have said in the past that monetary policy is in "a good place" and likely to remain constant as long as current conditions continue.
Market reaction to the news on Wednesday was muted, with the S&P and Nasdaq indices climbing marginally on the news, while the Dow has remained at a loss on the day.
The committee releases its economic estimates quarterly. While only 10 members vote on rate policy, all 17 FOMC officials have an effect on the economic and rate prognostications.
The FOMC operates under a dual mandate of full employment and price stability. Unemployment is operating at a 50-year low and job development is coming off a robust November number.
While there is much debate about where the markets are headed, if the stocks are poised for more gains, traders can take advantage with leveraged S&P 500 ETFs, such as the Direxion Daily S&P 500 Bull 2X ETF (SPUU A), Direxion Daily S&P500 Bull 3X ETF (SPXL B+) while the Direxion Daily S&P 500 Bear 1X ETF (SPDN ) can be used for pullbacks and selloffs.
High Yield Bond Seekers May Take New 'ANGL' with this ETF
---
Content continues below advertisement
Investor interest in bond ETFs reached fever pitch during the summer as volatility in equities spurred a demand for safe haven assets. However, low rates have high yield bond seekers looking for ways to earn a higher-than-average return on debt, which they may find in the VanEck Vectors Fallen Angel High Yield Bond ETF (ANGL A-).
ANGL seeks to replicate as closely as possible the price and yield performance of the ICE BofAML US Fallen Angel High Yield Index. The index is comprised of below investment grade corporate bonds denominated in U.S. dollars that were rated investment grade at the time of issuance.
ANGL essentially focuses on debt that has fallen out of investment-grade favor and is now repurposed for high yield returns with the downgraded-to-junk status.
"The premise behind fallen angels is simple," wrote Todd Shriber in a Nasdaq article. "They're corporate bonds that were born with investment-grade ratings and were later downgraded to junk status. For those that are in school or with kids in school, think of fallen angels as former honor roll students that lose their way. Good news: as is the case with students, fallen angel bonds can regain their lost luster and deliver impressive results."
Examining the ANGL ETF
How has the fund been doing thus far? ANGL has been yielding over 15% YTD according to Morningstar performance numbers.
With the extended bull run raging on, it's been a boon for high yield fixed income investors where a risk-on environment has been fueling gains within the riskier bond classes. However, with rate cuts by the Federal Reserve and fears of a global economic slowdown looming, the high yield party just may be starting to wind down.
Even domestically, the market may start losing steam despite a generally strong labor market with a low unemployment rate. With the high yield market getting more risky, it's necessary for investors to shed some of that risk and get more strategic with their capital allocation.
This could mean looking to options like investment-grade debt for higher yielding income sources. After investors got washed through the May volatility cycle thanks to trade wars, that may have tamped down their risk-on sentiment and this is where a potential buying opportunity exists for investment-grade debt—as a result, high yield has underperformed lately as investors flocked to the safer confines of quality oriented assets like investment-grade debt issues.
Investment-grade corporate bond-focused fixed-income ETF options include the iShares Intermediate Credit Bond ETF (CIU A), iShares iBoxx $ Investment Grade Corp Bd ETF (LQD A) and Vanguard Interm-Term Corp Bd ETF (VCIT A).
This article was originally published on our sister site, ETF Trends.