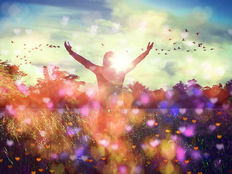 Infusive US Trust launched the Infusive Compounding Global Equities ETF (JOYY) on Monday that seeks to track the investment results of the Infusive Global Consumer Champions Index.
Under normal circumstances, JOYY seeks to achieve its investment objective by investing at least 80% of its net assets in securities included in the Infusive Global Consumer Champions Index (the "underlying index"). The underlying index seeks long-term capital appreciation by investing in a portfolio of global, publicly-listed companies that are determined by MSCI, Inc. to meet the definition of a Consumer Alpha company.
Similar to shares of an index mutual fund, each share of the fund represents an ownership interest in an underlying portfolio of securities and other instruments intended to track a market index. Unlike shares of a mutual fund, which can be bought and redeemed from the issuing fund by all shareholders at a price based on net asset value ("NAV"), shares of JOYY may be purchased or redeemed directly from the Fund at NAV solely by Authorized Participants ("APs").
Also, unlike shares of a mutual fund, shares of JOYY are listed on a national securities exchange and trade in the secondary market at market prices that change throughout the day.
JOYY's Varying Performance
The performance of JOYY and the underlying index may vary for several reasons, including transaction costs, asset valuations, corporate actions (such as mergers and spin-offs), timing variances and differences between the fund's portfolio and the underlying index resulting from the fund's use of representative sampling or from legal restrictions (such as diversification requirements) that apply to the Fund but not to the Underlying Index. "
Tracking error is the divergence of the performance of JOYY's portfolio from that of the underlying index. Infusive Asset Management, Inc., the investment advisor to the fund (the "Advisor"), expects that, over time, the fund's tracking error will not exceed 5%.
Unlike many investment companies, JOYY does not try to "beat" the index it tracks. Instead, the fund uses a passive management strategy designed to follow the total return performance of the underlying index. The fund intends to replicate the underlying index fully. At times, JOYY may gain exposure to only a representative sample of the securities in the underlying index that has aggregate characteristics similar to those of the underlying index.
This article originally appeared on ETFTrends.com.
---
Content continues below advertisement