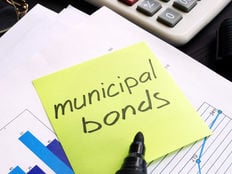 Sustainable investing is much more than a new buzz phrase in the investment community. It comes with real implications and real opportunities, both of which extend to the fixed income universe.
VanEck is one of the ETF issuers looking to capitalize on those trends. To that effect, the firm recently filed plans for the VanEck Vectors Sustainable Muni ETF.
"The Fund normally invests at least 80% of its total assets in investments the income from which is exempt from U.S. federal income tax (other than AMT)," according to a VanEck filing with the Securities And Exchange Commission. "The Fund is an actively managed exchange-traded fund ('ETF') that seeks to achieve its investment objective by investing, under normal circumstances, in investment grade municipal debt securities that fund issuers with operations or projects helping to promote progress towards sustainable development, in alignment with the goals and metrics defined by the United Nations Sustainable Development Goals ('SDGs') 9, 11 and 12."
Sensible and Sustainable Idea
The idea of a sustainable municipal bond ETF makes sense. Moreover, it makes sense that VanEck would be the issuer behind such a fund. The firm introduced the VanEck Vectors Green Bond ETF (GRNB B), the first green bond ETF.
GRNB tracks the S&P Green Bond Select Index, which is "comprised of labeled green bonds that are issued to finance environmentally friendly projects, and includes bonds issued by the supranational, government, and corporate issuers globally in multiple currencies," according to VanEck.
Additionally, VanEck has one of the largest lineups of municipal bond ETFs with the VanEck Vectors High-Yield Municipal ETF (HYD A-), VanEck Vectors AMT-Free Long Municipal Index ETF (MLN B), VanEck Vectors AMT-Free Intermediate Municipal Index ETF (ITM A-) and the VanEck Vectors Short High-Yield Municipal Index ETF (SHYD C+), among others.
The filing for the VanEck Vectors Sustainable Muni ETF does not contain a ticker or an expense ratio. That could be a sign that the fund isn't close to being launched, but that could change in the coming weeks.
Jim Colby, who oversees VanEck's other municipal bond offerings, will manage the new fund, too.
This article originally appeared on ETFTrends.com.
---
Content continues below advertisement