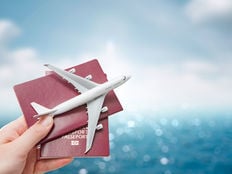 Do more than just dream of the next vacation with an ETF focused on the companies that will make it become a reality.
Today, ETFMG launched the ETFMG Travel Tech ETF (AWAY), which tracks the performance of a measure of companies providing technology for hotel reservations, ride-sharing, and travel advice, according to a regulatory filing. AWAY is the first ETF to give investors direct access to the technology-focused global travel and tourism industry.
Global travel and tourism as a category is one of the largest economic sectors, constituting 10.4% of global GDP, with one out of every three millennials willing to spend $5,000 or more on a vacation. Those kinds of numbers make this a great are for an ETF to strike.
Booking Holdings Inc., which operates websites including Kayak and Priceline, as well as Uber Technologies Inc. are among its biggest components. Those stocks have outperformed the benchmark measure of U.S. equities this month, challenging concern over a possible economic slowdown, regardless of the effects of the Coronavirus.
Travel Tech Companies Are Big With The Kids
According to Bloomberg, "That's been possible in part due to an upbeat outlook for travel tech companies' growth prospects among younger generations. Travel and tourism contributed a record $8.8 trillion to the global economy last year, according to a council that represents more than 170 industry companies."
"It's certainly a theme that investors are interested in," said Andy Wester, an analyst at Proficio Capital Partners. "Travel can't really be disrupted. There's always going to be a business getting from point A to point B."
Additionally, AWAY tracks the Prime Travel Technology Index (PTRAVEL), designed to measure the performance of technology companies that are working to usher in a new era of global travel and tourism. The index has been created to provide investors with a reference measure that enables them to track both event-driven news and long-term trends of travel technology companies.
Travel Technology companies are a subset of the global travel and tourism industry that are engaged in "Travel Technology Business." Travel Technology Business is defined as providing technology, via the internet and internet-connected devices such as mobile phones, to facilitate the following categories: travel bookings and reservations, ride-sharing and hailing, travel price comparison, and travel advice. These companies operate both direct to consumers and as providers to businesses. Companies with products and services that are predominantly tied to any of the categories of Travel Technology Business are collectively called "Travel Technology Companies."
This article originally appeared on ETFTrends.com.
---
Content continues below advertisement