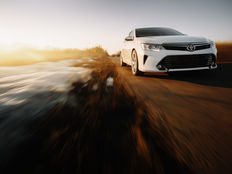 Aside from offering vehicles that leave less of a carbon footprint, the automotive industry is doing more in the environmental, social and governance (ESG) space with companies like Toyota Motor Corporation offering the first U.S. corporate green bond this year.
Toyota is borrowing $2.5 billion through its finance company in order to fund the sale of clean cars. Per a Bloomberg report, "Toyota Motor Credit Corp. is selling the debt in as many as three parts, according to a person with knowledge of the matter. Only the 10-year security will be green, and it will yield 65 basis points above Treasuries, after initially discussing in the high 70s-basis point range, the person said, asking not to be identified as the details are private. Toyota will cap the green portion of the deal at $750 million, the person said."
As part of an even bigger ESG initiative, Toyota has a green bond program in place that will help finance new loans and lease contracts for eligible Toyota and Lexus vehicles. In addition, the company will add to the $5.3 billion of green bonds that Toyota Motor Credit issued through the end of last year.
According to data compiled by Bloomberg, public and private enterprises globally borrowed a record $204 billion worth of green bonds in 2019, which is up 50% from about $136 billion in 2018. Based on data from Moody's Investors Service, combined with sustainability debt, issuance is expected to hit a whopping $400 billion in 2020.
---
Content continues below advertisement
The Rise of ESG in 2020
More and more investors are asking for ESG-focused products that not only achieve target returns, but also focus on topics investors care about, such as climate change or renewable energy sources. ESG is starting to make an impact in the investment arena and more interest in 2020 should follow.
The challenge for these ESG funds is giving investors what they want, which is more ESG offerings, but at the same time, trying to generate a return. Because of this unprecedented growth, ESG is now drawing the attention of the SEC just as the topic became one of the "most searched financial terms":https://401kspecialistmag.com/fire-esg-among-10-most-searched-financial-terms/?highlight=esg in 2019, according to a "401(k) Specialist post":https://401kspecialistmag.com/the-sec-is-scrutinizing-esg-funds/.
Investors looking to capitalize on ESG can also do so via ETFs. BlackRock's iShares brand supports some of the most widely held ESG ETFs, including the iShares ESG MSCI USA Leaders ETF (SUSL A), iShares MSCI KLD 400 Social ETF (DSI A-) and the iShares MSCI USA ESG Select ETF (SUSA A).
This article originally appeared on ETFTrends.com.