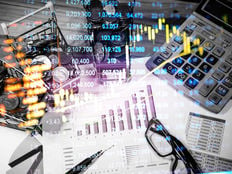 With such a volatile week, investors have been doing the "safety dance" with moves into bonds and fortunately, there's a plethora of options out there where investors can seek safety. Kyle Woodley, Senior Investing Editor at Kiplinger's, offered up 12 different exchange-traded funds that are ideal in a bear market now that the Dow Jones Industrial Average has taken a market corrective turn due to the coronavirus outbreak.
Here's a pair of bond ETFs to look at from the 12 funds offered in the full article:
Vanguard Short-Term Bond

ETF

(

BSV

):

BSV

seeks to track the performance of Bloomberg Barclays U.S. 1-5 Year Government/Credit Float Adjusted Index. Bloomberg Barclays U.S. 1-5 Year Government/Credit Float Adjusted Index includes all medium and larger issues of U.S. government, investment-grade corporate, and investment-grade international dollar-denominated bonds that have maturities between 1 and 5 years and are publicly issued. All of its investments will be selected through the sampling process, and at least 80% of its assets will be invested in bonds held in the index.

SPDR

DoubleLine Total Return Tactical

ETF

(

TOTL

):

TOTL

seeks to maximize total return. Under normal circumstances, the Sub-Adviser will invest at least 80% of the fund's net assets in a portfolio of fixed income securities of any credit quality. The fund may invest up to 25% of its net assets in corporate high yield securities. It may invest up to 15% of its net assets in securities denominated in foreign currencies, and may invest beyond this limit in U.S. dollar-denominated securities of foreign issuers.
"BSV is a dirt-cheap index ETF that gets you exposure to an enormous world of nearly 2,500 short-term bonds with maturities of between one and five years," wrote Woodley. "Why short-term? The less time a bond has remaining before it matures, the likelier it is that the bond will be repaid – thus, it's less risky. Also, the value of the bonds themselves tend to be much more stable than stocks. The trade-off, of course, is that these bonds don't yield much. Indeed, the BSV's 1.5% yield is less than what the S&P 500 at the moment."
As for TOTL, it uses an actively managed strategy, which means it will come with a higher expense ratio at 0.65%. However, in today's market, investors are essentially paying for protection.
---
Content continues below advertisement
"The downside of active management is typically higher fees than index funds with similar strategies," Woodley noted. "But if you have the right kind of management, they'll often justify the cost. Better still, TOTL is, as it says, a 'total return' option, meaning it's happy to chase down different opportunities as management sees fit – so it might resemble one bond index fund today, and a different one a year from now."
"TOTL's managers try to outperform the Bloomberg Barclays US Aggregate Bond Index benchmark in part by exploiting mispriced bonds, but also by investing in certain types of bonds – such as "junk" and emerging-markets debt – that the index doesn't include," Woodley added. "The 1,010-bond portfolio currently is heaviest in mortgage-backed securities (54.1%), followed by U.S. Treasuries (25.3%) and emerging-market sovereign debt (8.1%)."
This article originally appeared on ETFTrends.com.