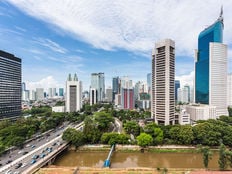 Given the way emerging markets (EM) were roiled by the coronavirus outbreak, it might seem like a sound idea to stay away from them as much as possible. However, a report from global investment firm UBS reminded investors that now might be an opportune time to jump on EM assets.
"On the face of it, the sector doesn't seem too appealing in the wake of the China-born Coronavirus outbreak," a Forbes report noted. "China has a 33% weighting in the MSCI emerging markets index and Beijing has made many missteps in managing the crisis. But the reality may be far better than some investors know. The Coronavirus outbreak in China could soon be under control, China's economy may already be recovering, and there could be some good profits to be had in the sector if you believe a recent report from Swiss bank UBS."
"Emerging market stocks have outperformed developed markets by 1.7% since the beginning of February," the UBS report states. "We expect this trend to continue and are overweight EM equities with a particular preference for China within emerging markets."
For investors looking for the continued upside in emerging market assets as the effects of the coronavirus weaken in China, the Direxion MSCI Emerging Over Developed Markets ETF (RWED )  offers them the ability to benefit not only from emerging markets potentially performing well but from emerging markets outperforming developed markets.
RWED seeks investment results that track the MSCI Emerging Markets IMI – EAFE IMI 150/50 Return Spread Index. The Index measures the performance of a portfolio that has 150 percent long exposure to the MSCI Emerging Markets IMI Index and 50 percent short exposure to the MSCI EAFE IMI Index.
---
Content continues below advertisement
Broad Emerging Markets Exposure
Investors who want broad exposure to EM can look at funds like the Vanguard FTSE Emerging Markets ETF (VWO A+). VWO employs an indexing investment approach designed to track the performance of the FTSE Emerging Markets All Cap China A Inclusion Index. It invests by sampling the index, meaning that it holds a broadly diversified collection of securities that, in the aggregate, approximates the index in terms of key characteristics.
Another fund to consider is the iShares MSCI Emerging Markets ETF (EEM A-). EEM seeks to track the investment results of the MSCI Emerging Markets Index. The fund generally invests at least 90% of its assets in the securities of its underlying index and in depositary receipts representing securities in its underlying index. The index is designed to measure equity market performance in the global emerging markets. The underlying index will include large- and mid-capitalization companies and may change over time.
This article originally appeared on ETFTrends.com.