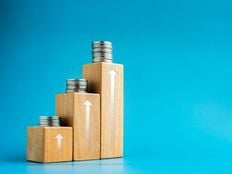 Top Performing Unleveraged ETFs Last Week
These were last week's top performing ETFs. We've excluded funds which use leverage or make inverse bets on their underlying assets.
Last week was phenomenal for an under appreciated fund. Despite launching in 2007, the Claymore CEF GS Connect ETN (GCE) has been slow to gather assets. The note is a tricky little legacy fund of closed-end funds product that tracks an index selecting its holdings based on premium/discounts and distribution yield. While trading is virtually non existent and it's mostly considered a zombie fund, GCE returned over 26% percent last week. Not bad for the walking dead.
Sector funds also had a great week with strong returns in grains, biofuels, cannabis, MPLs and potash. Also of note is the Arrow DWA Country Rotation ETF (DWCR). A 9.92% allocation to Denmark could be responsible for some of last week's 6.98% return as a strong bet for the European healthcare sector.
| Ticker | Name | 1 Week Return |
| --- | --- | --- |
| (GCE ) | Claymore CEF GS Connect ETN | 26.26% |
| (GRU ) | MLCX Grains ETN | 11.51% |
| (FUE ) | MLCX Biofuels ETN | 9.53% |
| (DWCR ) | Arrow DWA Country Rotation ETF | 6.98% |
| (YOLO ) | AdvisorShares Pure Cannabis ETF | 6.48% |
| (MLPO ) | Credit Suisse S&P MLP Index ETN | 6.32% |
| (PVAL ) | Principal Contrarian Value Index ETF | 6.31% |
| (FKO ) | First Trust South Korea AlphaDEX Fund | 6.29% |
| (SOIL ) | Global X Fertilizers/Potash ETF | 5.53% |
| (PSM ) | Principal U.S. Small-MidCap Multi-Factor Core Index ETF | 5.52% |
---
Content continues below advertisement