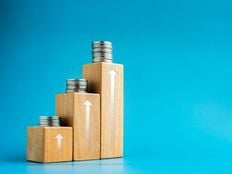 Top Performing Unleveraged ETFs Last Week
These were last week's top performing ETFs. We've excluded funds which use leverage or make inverse bets on their underlying assets.
This past week was a bet for FANGs. While the regular MicroSectors FANG+ ETN (FNGS) was up 7.82%, its leveraged cousins, the MicroSectors FANG+™ Index 3X Inverse Leveraged ETN (FNGU) and MicroSectors FANG+ Index 2X Leveraged ETN (FNGO) ere up a colossal 24.55% and 15.99% respectively. FANG" companies are those like Facebook, Apple, Amazon, Netflix, and Alphabet (formerly Google), not a bad bet in the 2020 work from home year. Notably we also see gains for the Reality Shares Nasdaq NexGen Economy ETF (BLCN) which has a 36% allocation to technology and almost 8% in communications, as well as the ARK Next Generation Internet ETF (ARKW). Guess it was a good week for tech wizards.
| Ticker | Name | 1 Week Return |
| --- | --- | --- |
| (FNGS ) | MicroSectors FANG+ ETN | 7.82% |
| (PEZ ) | Invesco DWA Consumer Cyclicals Momentum ETF | 7.69% |
| (DWSH ) | AdvisorShares Dorsey Wright Short ETF | 7.65% |
| (ARKG ) | ARK Genomic Revolution ETF | 7.53% |
| (BLCN ) | Reality Shares Nasdaq NexGen Economy ETF | 6.25% |
| (ARKW ) | ARK Next Generation Internet ETF | 6.07% |
---
Content continues below advertisement