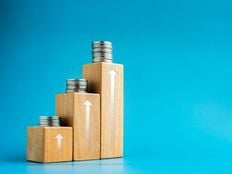 Weekly Asset Class Fund Flows
Investors often reallocate money in between asset classes, whether to manage risk or simply to rebalance. This is our weekly snapshot of where ETF investors are putting their money.
Bonds made a recovery this past week with $3.5 billion in new assets. While that only accounts for 0.36% of the total assets in fixed income ETFs, it's a marked change from the previous week's $613 million losses. Equities and real estate continue their slide, with outflows of a further $1.6 billion and $73 million respectively.
Volatility's small but mighty surge also continued. Its $194 million in new assets accounted for 5.28% of its total assets. The rally is mostly based off of the flows into the iPath Series B S&P 500 VIX Short-Term Futures ETN (VXX), into which investors poured $142 million last week. All of August has been a positive month for the fund, and YTD it's seen returns of 61%.
Taking advantage of that same market uncertainty, investors smiled on commodities this week as well. A full half of the week's inflows came from just one fund, the United States Oil Fund (USO), at $412 million in new assets.
| Asset Class | AUM ($, mm) | Net Flows ($, mm) |
| --- | --- | --- |
| Bond | $984,871.67 | $3,548.07 |
| Commodity | $153,993.60 | $902.85 |
| Volatility | $3,686.63 | $194.62 |
| Preferred Stock | $32,885.73 | $166.03 |
| Alternatives | $2,813.32 | $23.26 |
| Currency | $2,012.06 | -$1.14 |
| Multi-Asset | $18,761.29 | -$30.13 |
| Real Estate | $60,170.06 | -$73.49 |
| Equity | $3,530,276.11 | -$1,567.81 |
---
Content continues below advertisement