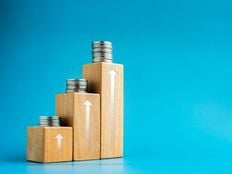 Top Performing Unleveraged ETFs Last Week
These were last week's top performing ETFs. We've excluded funds which use leverage or make inverse bets on their underlying assets.
This week's big winner was iPath Series B Bloomberg Platinum Subindex Total Return ETN (PGM B+), though investors don't seem to share the love. The note is small at just $4.3 million in assets and tends to trade thinly with large spreads. That said it's the only fund in the space that's not backed by physical bullion and so avoids the higher collectible tax rate of its brethren.
This week's top performers also include a couple of interesting niche funds. The Barclays Return on Disability ETN (RODI C) is an ESG fund that screens firms based on positive treatment of disabled people, both as employees and customers. Like PGM, this note is small but in this case the volume is almost non-existent. Investors should trade with caution. Also included this week is the Loncar Cancer Immunotherapy ETF (CNCR B-), a fund that invests in companies producing or in clinical trials for cancer immunotherapy drugs. CNCR has had a strong year with 11.54% returns YTD, but investors haven't shown much interest.
| Ticker | Name | 1 Week Return |
| --- | --- | --- |
| (PGM ) | iPath Series B Bloomberg Platinum Subindex Total Return ETN | 7.51% |
| (RODI ) | Barclays Return on Disability ETN | 5.36% |
---
Content continues below advertisement