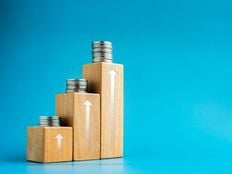 Top Performing Unleveraged ETFs Last Week
These were last week's top performing ETFs. We've excluded funds that use leverage or make inverse bets on their underlying assets.
This past week's big winner was uranium. Both the top performer, the North Shore Global Uranium Mining ETF (URNM ), and the Global X Uranium ETF (URA B) had impressive runs. URA had the added bonus of over $23 million inflows for the week, 14.5% of its AUM. URNM's smaller $3 million in new assets still account for almost 13% of its total assets. The two funds are the only pure play buy into the uranium space. While URNM focuses solely on the mining components, URA seeks a broader application focus, investing in technology and nuclear component producers as well.
| Ticker | Name | 1 Week Return |
| --- | --- | --- |
| (URNM ) | North Shore Global Uranium Mining ETF | 14.34% |
| (BDRY ) | Breakwave Dry Bulk Shipping ETF | 9.79% |
| (BMLP ) | Dorsey Wright MLP Index ETN | 9.73% |
| (GFIN ) | Goldman Sachs Finance Reimagined ETF | 9.24% |
| (GMAN ) | Goldman Sachs Manufacturing Revolution ETF | 9.17% |
| (GDAT ) | Goldman Sachs Data-Driven World ETF | 8.99% |
| (GDNA ) | Goldman Sachs Human Evolution ETF | 8.94% |
| (GBUY ) | Goldman Sachs New Age Consumer ETF | 8.63% |
| (URA ) | Global X Uranium ETF | 8.38% |
| (GNOM ) | Global X Genomics & Biotechnology ETF | 6.96% |
---
Content continues below advertisement