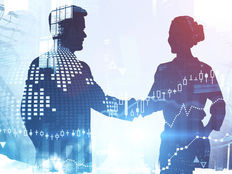 On Oct. 7, a team of seasoned industry veterans announced the launch of BondBloxx Investment Management, the first ETF issuer to specialize exclusively in meeting the needs of fixed income investors.
According to the press release, BondBloxx will leverage innovations in bond market pricing and trading technology to provide ETFs that offer targeted asset class exposures and allow investors to diversify and fine-tune risk exposure across credit quality, maturities, and sectors.
The founders, who have collectively launched over 350 ETFs, include top leadership from industry giants like BlackRock, J.P. Morgan, State Street, Northern Trust, and HSBC. The executive team includes:
Leland Clemons, formerly Head of Fixed Income and Derivatives, Tradeweb Europe; Global Head of Markets and Investment Strategy, BlackRock iShares (Clemons also serves as

CEO

of Alerian, the parent company for

ETF

Trends and

ETF

Database.)
Joanna Gallegos, formerly Head of Global

ETF

Strategy, J.P. Morgan; Head of

ETF

Product Management, BlackRock iShares
Elya Schwartzman, formerly Senior Portfolio Manager, BlackRock; Senior Portfolio Manager, State Street Global Advisors
Mark Miller, formerly Head of Institutional Sales for the Americas,

HSBC

; Head of Fixed Income

ETF

Sales, BlackRock iShares
Brian O'Donnell, formerly Head of Sales & Strategy for Funds and Managed Accounts, Northern Trust; Head of US Cash Sales, BlackRock
"The bond market is evolving, with innovations in price transparency and electronic trading that have set the table for a step-change in the evolution of fixed income ETFs," said Clemons, in the press release. "The BondBloxx team understands the power and potential of ETFs to improve investment outcomes with greater transparency, increased liquidity and lower costs."
Fixing Fixed Income With More Focused ETFs
The U.S. fixed income ETF market has grown exponentially in the last ten years, rising seven-fold, and is predicted to account for over $2 trillion in assets under management by 2024.
Yet today, fixed income remains only 20% of the total U.S. ETF market by assets under management. That's in part because bond markets have historically been harder to access and offered less pricing transparency, resulting in fewer ETFs being launched. Currently there are approximately 400 bond ETFs listed in the US, compared to over 1,700 equities ETFs.
"We all see accelerated innovation in ETFs, but being 100 percent focused on fixed income gives this particular company an ability to really get this right and understand the 20 percent stat and why it hasn't gone further until now," said co-founder Gallegos in an interview with Institutional Investor.
BondBloxx intends to create targeted fixed income products that fill the gap between individual company bonds and the broader exposure that most bonds funds offer, with specific asset class allocations and risk targets.
"If you look at how fine the equity landscape has been cut, there is simply not the same level of precision in fixed income," said Clemons in an interview with Bloomberg. "The gap between individual securities and broad-based exposures is very large."
As individual bonds don't trade on an exchange, it makes them more illiquid than their stock counterparts. ETFs, which do trade on exchanges, offers a solution. But there's still plenty of room for improvement in pricing data, portfolio optimization, and trading.
"You're only now seeing this force coming into fixed income, especially in credit. Electronic trading, portfolio trading, algorithmic. We believe the confluence of that will be a real accelerant for growth," Clemons told Institutional Investor.
BondBloxx has filed with the SEC for seven different ETF high yield offerings, all of which will pull securities from the same underlying universe, as defined by the ICE BofA US Cash Pay High Yield Constrained Index. The ETFs are divided by sectors, including industrial, telecom media technology, healthcare, financial, energy, consumer cyclicals, and consumer non-cyclicals.
---
Content continues below advertisement
Who Is BondBloxx?
From Top Left: Leland Clemons, Joanna Gallegos, Brian O'Donnell, Elya Schwartzman, Mark Miller
Leland Clemons is the former Head of Fixed Income and Derivatives at Tradeweb Europe as well as the former Global Head of Markets and Investment Strategy at Blackrock iShares. Clemons worked for Blackrock when its ETF division, iShares, first entered into the fixed income space. Clemons also serves as CEO of Alerian, the parent company for ETF Trends and ETF Database.
Joanna Gallegos is the former Head of Global ETf Strategy at J.P. Morgan as well as former Head of ETF Product Management at BlackRock iShares. She has experience across all aspects of the ETF businesses, including capital market effectiveness, distribution strategy, the strategic product lifestyle, and building financial enterprise systems. She has helped bring over 175 ETFs to market, according to the BondBloxx website.
Brian O'Donnell is a former Senior Vice President and the former Head of Sales and Strategy for Funds and Managed Accounts at Northern Trust as well as the Head of US Cash Sales at BlackRock. He has a wealth of experience in developing businesses and sales strategy for ETFs, as well as fostering better business intelligent through analytics and data and was a key component in launching iShares' ETFs in the Australian and Asia Pacific markets, according to the website.
Elya Schwartzman is the former Senior Portfolio Manager at Blackrock as well as the Former Senior Portfolio Manager at State Street Global Advisors. In his time at Blackrock he designed systems that supported and were integral to ETF primary markets, and asset growth. He also created custom baskets and is the inventor on a US patent for a system that processes custom baskets in ETF while at BlackRock, per the company website.
Mark Miller is the former Head of Institutional Sales for the Americas at HSBC as well as the former Head of Fixed Income ETF Sales at Blackrock iShares. He has deep experience with fixed income vehicles, having been Head of Market Sales for equities and fixed income at HSBC as well as growing institutional investor business with fixed income ETFs at BlackRock, per the website.
"Delivering fixed income ETFs can be challenging given the differences in market structure and price transparency," said Gallegos in the release. "But bond markets are evolving, and this team is singularly focused on creating new products designed to deliver the benefits of ETFs to fixed income investors. Our objective is to put fixed income ETFs on a level footing with equities by empowering investors with products that enable more precise portfolio construction in key bond market asset classes."
For more information on this and other news, please visit ETF Trends.