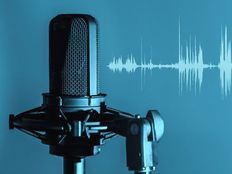 Love podcasts? So do we. That's why at the inaugural Exchange conference, held in Miami, FL, from April 11-14, 2022, we're welcoming more than a dozen of the industry's leading podcast hosts to take the stage and record live episodes of their shows, including ETF Prime.
For attendees, it's a rare opportunity to catch fan-favorite podcasts and top financial experts sharing their insights in an intimate, relaxed setting.
After each recording will be an interactive Q&A session, where audience members can ask questions of hosts in real time and obtain actionable insight before the episode airs.
Catch Live Episodes Broadcasting From the Main Stage
Podcasts are more popular than ever before. As of 2021, there are now over two million podcasts in existence, with more than 48 million episodes recorded. That growth has led to a renaissance of finance and investing-themed podcasts as well.
Two podcasts already announced for Exchange include ETF Prime and ETF of the Week.
---
Content continues below advertisement
ETF Prime
Hosted by Nate Geraci, president and chairman of the ETF Store, ETF Prime helps listeners get up to date with what's happening on Wall Street.
Bloomberg Business says ETF Prime is one of the "most helpful plain-English resources for investors who want to demystify exchange-traded funds."
This is a podcast for both experts and novices alike, as Nate gathers the brightest minds in finance to shed light on the news, trends, and themes impacting the ETF market. Whether you are an established industry veteran or just unlocking the potential of ETFs, ETF Prime offers a wealth of easy-to-digest investment knowledge.
The Black Swans
Co-hosted by Shana Sissel and Suzanne Abrams, The Black Swans podcast spotlights women in finance.
Sissel has maintained fierce, outspoken advocacy for her fellow women in finance for the duration of her career, acting as a mentor for many other young women navigating the battlefield of a male-dominated industry. Having overcome many obstacles to achieve success in her own career, she leverages her personal social media following to speak out for the recognition and support of women in her field. As a member of Women in ETFs, Sissel has become a spokesperson for their Speaker's Bureau, with the goal of improving public representation of women in industry-oriented events and conferences, as well as in financial media.
Suzanne Lundeen Abrams has been helping clients take strides in their financial lives since 2005. She enjoys proactively planning so that life's surprises don't knock her clients off course. Abrams balances her entrepreneurial side by channeling her inner domestic goddess at home. She loves art of any kind and enjoys playing her violin, gardening, cooking, and reading. There's inevitably a stack of newspapers and New Yorkers she's always working her way through.
The Meb Farber Show
The Meb Farber show is laser-focused on helping people grow and preserve their wealth.
Each week Faber discusses the craft of investing and how to uncover new and profitable ideas in the global equity, bond, and real asset markets. Guests include the top investment professionals in the world.
Faber is a co-founder and the CIO of Cambria Investment Management, as well as the manager of Cambria's ETFs and separate accounts. Faber has authored numerous white papers and leather-bound books. He is a frequent speaker and writer on investment strategies and has been featured in Barron's, The New York Times, and The New Yorker. Faber graduated from the University of Virginia with a double major in engineering science and biology.
Flirting With Models
Flirting With Models is a show that aims to pull back the curtain and meet the investors who research, design, develop, and manage quantitative investment strategies.
The podcast is hosted by Corey Hoffstein, CIO of Newfound Research, who takes audiences on a journey to explore systematic investment strategies, ranging from value to momentum and merger arbitrage to managed futures.
Trillions
Bloomberg's Trillions is a biweekly podcast that is all about ETFs and money. Money goes where it's treated best. That simple truth is a big reason why more and more money — trillions of dollars, in fact — flows into a powerful, low-cost tool that's quietly transformed investing in recent years. Exchange traded funds, or ETFs, let you invest in everything from the stock market to gold like never before. This biweekly podcast will demystify them — and delight you in the process.
The Compound and Friends
Josh Brown, Michael Batnick, and a rotation of their friends deliver expert insight and hot takes on the latest in business and investing every Friday. This podcast is like a low-key hangout with some particularly bright friends as they casually discuss the biggest stories, moments, and trends of the week.
Want to find out which of your favorite podcast hosts will be at Exchange? Visit the Exchange website for more details.
For more news, information, and strategy, visit ETF Trends.