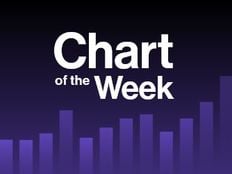 Even with the S&P 500 Index down 16% as of late November, advisors told VettaFi they were optimistic heading into 2023 that the market will bounce back in the months ahead. During a November 22 with Innovator ETFs, VettaFi asked, "Relative to today's level, where do you think the S&P 500 is most likely to be by June 30, 2023?"  
A combined 64% of advisor respondents expected the market to rally by at least 5%, with advisors largely split between 10% higher (34%) and 5% higher (29%). Meanwhile, 27% of the audience forecasted the large-cap U.S. index to be lower by the middle of 2023. The remainder believed that the market will be relatively flat.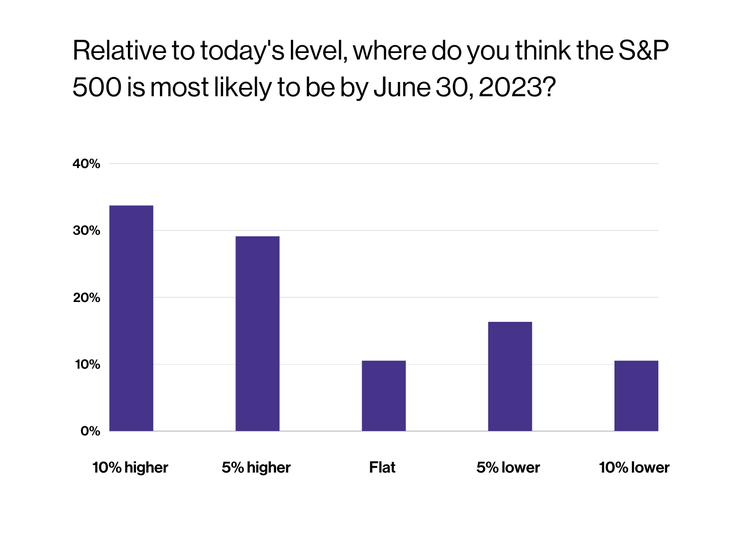 ---
Content continues below advertisement
Advisors have lots of S&P 500 Index-related ETFs to consider. In addition to the four that track the market cap-weighted large-cap index, led by the SPDR S&P 500 ETF (SPY A), there are very popular ETFs that start with the S&P 500 Index but own just growth stocks, like the iShares S&P 500 Growth (IVW A); or just dividend-paying stocks, like the ProShares S&P 500 Dividend Aristocrats ETF (NOBL A-); or just lower-risk stocks, like the Invesco S&P 500 Low Volatility ETF (SPLV A+). However, there are others worthy of consideration by advisors who are looking for a return to growth for U.S. equity markets in 2023. 
The Invesco S&P 500 GARP ETF (SPGP A-) is a growth-at-a-reasonable price alternative to IVW that incorporates quality and value attributes. Metrics such as total debt-to-book value, return on equity, and earnings-to-price ratio are combined with traditional sales and earnings growth ones to build SPGP. Unlike IVW, which is heavily weighted to information technology (43% of assets), SPGP had just 15% invested in the sector. Meanwhile, financials (27% of SPGP assets and 8% of IVW) is the largest. Year-to-date, SPGP's 11% decline was significantly less than IVW's 26% loss and that of the S&P 500.
The ALPS Sector Dividend Dogs ETF (SDOG A-) is an alternative to NOBL for equity income-focused advisors. Rather than investing in companies with a long record of dividend growth that tend to reside in a few sectors, SDOG owns the five highest-yielding stocks across 10 sectors providing value — not just quality — attributes to the fund. At the sector level, SDOG has less exposure than NOBL to consumer staples (10% vs. 22%) and industrials (10% vs. 18%) and more exposure to energy (11% vs. 3%) and information technology (10% vs. 5%). SDOG was recently up 0.5% for the year, while NOBL declined 4%; both ETFs outperformed SPY. SDOG tracks an index run by VettaFi.
Meanwhile, the Pacer Lunt Large Cap Alternator ETF (ALTL B+) is another alternative to SPLV for advisors that want help shifting to risk-on securities in the S&P 500 if there's a more favorable environment at the start of 2023. ALTL rotates between a low-volatility approach to and from a high beta one based on relative strength signals. 
In 2022, ALTL briefly shifted to high beta for the month of March before returning to low volatility for four months. However, from August through October, the ETF held high beta stocks like Enphase Energy and Royal Caribbean before, once again, returning to lower-volatility ones like Coca-Cola and Johnson & Johnson in November. While ALTL's recent year-to-date loss of 11% was wider than SPLV's 5% decline, the factor ETF was outperforming SPY by approximately 500 basis points.  
We are not necessarily forecasting ALTL, SDOG, and SPGP to outperform the S&P 500 index in the first six months of 2023, but we think the lesser-known ETFs could offer advisors and end clients an alternative to a market cap-weighted approach built using large-cap stocks.
vettafi.com is owned by VettaFi, which also owns the index provider for SDOG. VettaFi is not the sponsor of SDOG, but VettaFi's affiliate receives an index licensing fee from the ETF sponsor.
For more news, information, and strategy, visit VettaFi.