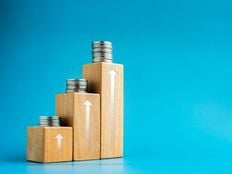 Weekly Asset Class Fund Flows
Investors are probably well aware by now that fixed income is back in town. They're so back, in fact, that some market observers have even suggested flipping stocks for bonds in the 60/40 portfolio to really dig into the available yields. What may be more striking is the variety of bond strategies that are pulling in flows.
| Asset Class | AUM ($, mm) | Net Flows ($, mm) |
| --- | --- | --- |
| Equity | $5,234,495.86 | $8,760.88 |
| Bond | $1,310,745.09 | $7,969.61 |
| Alternatives | $5,804.95 | $39.05 |
| Volatility | $2,795.84 | $37.37 |
| Preferred Stock | $32,034.35 | -$11.05 |
| Currency | $4,006.99 | -$65.07 |
| Real Estate | $73,722.83 | -$158.12 |
| Commodity | $136,599.16 | -$269.83 |
| Multi-Asset | $32,560.87 | -$759.41 |
---
Content continues below advertisement
Bonds added $8 billion in net inflows over the week ending yesterday, very close to equity ETF's almost $8.8 billion in net inflows in that time. BlackRock's ETF arm iShares led with eight of the top ten ETFs based on the week's flows – with all of the seven strategies investing in fixed income and the top flows gainer, the iShares Core MSCI Emerging Markets ETF (IEMG A) which added $3.6 billion alone.
The iShares bond suite that led the way includes ETFs looking at strategies ranging from corporate bonds and Treasurys to mortgage-backed debt securities and emerging markets bonds. The likes of the iShares iBoxx $ High Yield Corporate Bond ETF (HYG B+) were joined by the long-Treasury focused iShares 20+ Year Treasury Bond ETF (TLT B-), while broader core and total market bond ETFs also made the cut.
Emerging markets and corporate bonds were also noticeable sub-themes for the week. Investors appear to be looking to emerging markets equities for their relatively low valuations compared to U.S. equities which are still pretty pricey, while corporates, despite the potential for bankruptcies this year, are anticipated to offer attractive yields once the dust settles around corporate earnings.
Fellow big players State Street and Vanguard round out the top ETFs of the week by flows with the SPDR S&P 500 Trust ETF (SPY A) and the Vanguard Total Stock Market ETF (VTI A) taking the eighth and tenth positions based on net inflows.