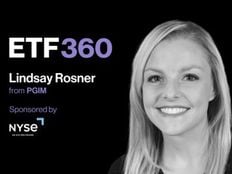 In the most recent episode of "ETF 360," VettaFi head of research Todd Rosenbluth was joined by PGIM senior portfolio manager Lindsay Rosner to discuss the .
2022 was a tough year for bonds, but, paradoxically, fixed income ETFs garnered a huge amount of interest among investors. "If you take a step back and think about what happened last year, it will all begin to make sense," Rosner said, noting that at the start of 2022, questions still lingered about how sticky inflation would be. "Money came out of equities and fixed income duration products, and it came into short-duration cash surrogates. It's really a place where people felt safety and there wasn't an interest rate risk."
Rosenbluth asked Rosner where PGIM sees the greatest income opportunities in 2023. According to Rosner, "What's very different in 2023 than 2022 is opportunity abounds." She noted that PGIM is predicting that there will be a recession, with the base case being a "garden variety" recession. "You can't just invest in anything and think that it will work." Though Rosner cautioned that a thoughtful, conservative approach will make sense, she took care to reiterate that there are lots of potential opportunities. PTRB, with its impressive 7% yield, is one of those opportunities.
Asked about the team, Rosner underscored that PTRB is far from a one-person show, but instead relies on collective expertise. "You need a lot of people to talk about and bat around ideas and really think about tail scenarios," Rosner said, continuing, "That was really what happened in 2022 — what people didn't assign a large probability to in the beginning of the year is actually what came to fruition."
With an experienced team of credit analysts and professionals with years of experience, PTRB uses a top-down approach. Touting the dynamic nature of the fund, Rosner said, "It's not a set-it-and-forget-it-and-we'll-see-you-in-2024. It's iterative, and we're constantly responding to what's going on in the markets."
According to Rosner, PTRB's team is a strong believer in active management. She pointed to funds that had Russian allocations and were index-based being unable to respond even if they had seen sanctions coming. "What's great about active management is we don't have to own Russia. Or, if a situation changes, we can sell the bond."
For more "ETF 360" videos, visit the "ETF 360 Channel":https://etftrends.com/etf-360-channel/.
---
Content continues below advertisement