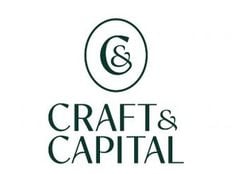 Earlier today, the venerable financial PR firm MacMillan Communications rebranded into Craft & Capital. Evan Harp had the opportunity to sit down with Craft & Capital president Chris Sullivan.
Evan Harp, staff writer, VettaFi: Congrats on the big news! Can you tell us a little bit more about this rebrand?
Chris Sullivan, president, Craft & Capital: Thanks, Evan. After 27 years as MacMillan Communications, we are officially rebranding as Craft & Capital. It's a new name meant to capture who we are, what we do, and what we think makes us unique, while also reflecting the strong history we've built in the financial PR space.
Harp: What is the scope of services that Craft & Capital offers?
Sullivan: If you had asked me that question back in 2005, when I first started here, my answer would have been relatively simple: media relations. Creating media outreach strategies, making connections with journalists, turning those relationships into connections with clients, all designed with an eye around getting the stories placed on the right platforms.
Media relations is always going to be at the core of what we do, but over the last several years, we've continued to augment and add to our services. Content creation is one such area which can take a number of different forms, whether it's assisting with marketing collateral, drafting speeches, assisting with blogging, and more. The way I describe it, as long as a client's content needs aren't geared towards a PhD-level audience, we can help you out. You need something for a PhD-level audience, I can hook you up with some PhDs.
Media training, social media, conferences, and more are also major areas for us. It comes back to the idea of partnership. Where does a client need assistance, what ideas can we bring forward, what is going to be most effective and useful as they look to grow their businesses? Not every client works with us in every area, but we like people to know where we can help.
Evan Harp: Can we talk about that public relations and communications landscape, and could you tell me a little bit more about what niche you feel like Craft & Capital is filling and the problems that your team can solve?
Chris Sullivan: Absolutely. In terms of what makes us unique, I think it really comes down to the people on our team and the experience and relationships that we can bring to our efforts.
You and I are talking because a large part of what we do is in the exchange traded fund space, where we've been very active since 2007. But we also have a major footprint in investment banking, hedge funds, wealth management, and fintech. We also work with a number of education-focused membership organizations, such as the CAIA Association.
Whatever the category, there is a lot of two-way dialogue between us and our clients, not just around a "wish list" of where they'd like to be, but going deeper and getting specific as to how we can help them get there.
As we were considering names, that was one of the aspects that steered us towards Craft & Capital. As we see it, our craft is communications and our capital is our expertise and relationships.
The brand captures a mix of art and science, a combination of left brain, right brain. In financial services, you tend to have a lot of people who are very analytical, very data-driven. They know "these are the outcomes that we are looking for." In this world of communications, which, frankly, doesn't perfectly fit a lot of analytical frameworks, we can help, I think, bridge that divide.
Harp: As someone who came into the world of finance through, of all things, communications coaching and theater, this makes so much sense to me!
Sullivan: I was an English major, and my plan was to be a journalist. By the time I was getting ready to finish college, I had a ton of clips, a New York Press Association Award, and zero job offers.
Thankfully, I kind of fell into PR and found it to be a good way to still use the skills I'd been developing. A few years of bouncing around agencies and in-house roles finally led me to MacMillan in 2005, and things clicked because our firm's founder, Mike MacMillan, had the combination of art and finance at the core of what he had built, which by that point was already a powerhouse firm in several areas, including mutual funds and investment banking.
That legacy and Mike's role are things we wanted to make sure we honored during this rebranding process. He started all of this, and the agency principles he drafted in 1996 are the same ones we follow today. We've got 27 years of accumulated history, reputation, relationships, and results, so our goal with this rebrand is not to approach the marketplace with a blank slate. We are still everything that MacMillan was all about.
Harp: Yeah, there's something about that, that feels like you are doing an authentic evolution of something that already exists instead of doing an Etch A Sketch where you just shake it and create something brand new.
Sullivan: That was really important to us.
The rebrand process itself was very intentional. We didn't want to throw a bunch of words into the financial cliché generator and see what popped out. So we worked with an outside consultant who did a great job of making this process a real team effort. That's one reason why I'm excited about how we landed on this name, because it wasn't just a few people making a call. We brought in everybody on the team, we brought in clients, we talked with journalists, getting their answers to questions like "Who are we? Why do you work here? Why do you work with us? What makes you want to do this every day?" Hopefully, you do want to do this every day… [Laughs]
It was a fun exercise. Because, obviously, you go to work, you do your job, but you don't often get that chance to kind of take a step out of your role and really have that conversation, asking, "What does this company where I work stand for? What makes it special, what makes it unique?"
Harp: That makes a lot of sense, and it also brings up a question: How has PR changed for the financial space over the years? What's the most important thing that finance firms should be considering when they're thinking about a partnership with a PR firm?
Sullivan: Going back to that genesis of our firm, in 1996, financial PR was still a relatively young industry. There were a handful of mutual fund firms that were running substantial PR operations. But that universe wasn't large, and the media landscape was for the most part relatively specialized.
We're in a way different era now, and while people love to discuss "the death of media," which is a very real and very serious issue in local journalism in particular, the finance-focused media is bigger and broader than ever. From a pure media relations perspective there have never been more opportunities, but there's also never been this much noise. That's one major area where a strong PR partner can help right away: not only making connections, but helping identify and foster the most impactful relationships. Call it guidance before outreach.
ETFs in particular have seen a massive evolution in the attention they receive. I think back to 2007/2008, when we'd have a client launch an ETF on the American Stock Exchange. Draft a media alert, invite people for a bell ringing, get 15 journalists in the room. Those days are gone, and not because the media cares any less about ETFs, believe me, they care way more, it's that the job of so many journalists is radically different than it was 15 years ago.
In connecting with the media, on ETFs or basically anything else, you've really got to be able to tell your story, and that's one of the reasons why we love working in the ETF space. There are so many interesting stories and there's so much interesting work being done in this field, in terms of the different approaches that are being packaged as ETFs, funds that are being ported over to an ETF wrapper, advisors who are exploring building their own ETFs, and more.
While the media might not jump at the chance to join you for a bell ringing the way they once did, many are just as interested in the space as we are because they see the innovation as well. But, and this is something all involved need to understand, they've got a very different job than we do. Skepticism is, and should be, part of their job. They're not stenographers. They're not cheerleaders. They play a hugely important role in educating the investor marketplace about what's happening. So we have to make sure that we can connect with them in a way that is useful, helpful, respectful, and understanding of what their goals are.
Harp: When next week rolls around, and you guys have been Craft & Capital for one week, what are you proudest about from that initial week, just kind of projecting forward?
Sullivan: I want to make sure that, a week from now, a month from now, several years from now, our reputation remains strong while the reach of our brand has grown. I would like to think that our reputation is one for being diligent and creative for our clients, and also an effective partner and conduit for information for the media.
We really value relationships here. And so, if a week out, our new name and look has helped us strengthen existing relationships and build new ones — that's a huge win. Because, at the end of the day, that's really what our work is all about, making connections. Anything that helps us form and forge stronger connections is going to be incredibly valuable for us and for our clients.
For more news, information, and analysis, visit VettaFi | ETFDB.
---
Content continues below advertisement