Jane Street's Fixed Income Specialist Ugo Egbunike offers advisors the "three best friends" for navigating ETF trading.
2022 was a record year in ETF trading volume, yet many advisors have key areas to improve ETF trading.
Jane Street's Fixed Income Specialist Ugo Egbunike reviewed on Sunday at Exchange: An ETF Experience the best practices for shifting advisors' portfolio towards ETFs and ensuring the strongest end client experience.
"Even as RIAs, even as financial advisors, you are essentially operating in the same way that institutional investors operate," Egbunike said. " I want you all to leave here today, knowing that you have three best friends within the ETF trading ecosystem."
The first best friend introduced by Egbunike is the limit order, which offers a guaranteed price but not execution, as the ETF may never reach the desired price.
"That being said, given the liquidity profile of ETF, there might be a need to make an adjustment on the price to reach an execution," Egbunike said. "We'll go into this a bit later, but you'll have to contact the other best friends to make sure it works."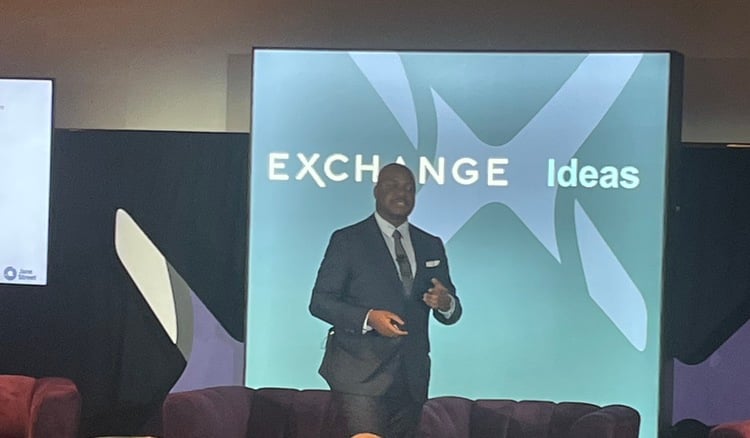 ---
Content continues below advertisement
The second-best friend is a contact at the ETF capital markets desk of the ETF in which you've decided to invest.
"Whether it's BlackRock, Vanguard, State Street, or the smallest issuers that you can think of, they all have individuals on their cap markets desk whose sole role is to help you all in your execution needs, to make sure that you can get out of in and out the ETF at a reasonable price," Egbunike said.
The third and final best friend for financial advisors and RIAs within the ETF trading ecosystem is working with market makers, such as Jane Street. When RIAs and advisors have the ability to trade directly with market makers, they have a menu of options, the most common of which is a risk trade where the client receives a one-way or two-way quote for the entire trade.  This allows for an immediate price guarantee and helps to minimize market impact.
"All these together allow you to have more control over the execution of that particular ETF, but it's key to understand that even as a smaller investor, a lot of these tools are available to you by utilizing the network of those three best friends, whether it's a limit order, whether it's contacting the ETF capital markets, or calling us directly as a market maker when you're looking to trade that ETF," Egbunike said.
For more coverage of Exchange 2023, please visit VettaFi | ETFdb.