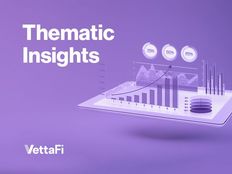 Last week's VettaFi Voices On discussed small-cap stocks in ETFs. In this conversation, I discussed the dichotomy of companies within thematic ETFs: 1) new emerging companies that disrupt an industry and 2) large, incumbent companies with the scale and cash to invest in newer trends. While many investors and advisors focus on the first type, the second type is particularly important in context of ETFs. These companies support the diversification benefit of investing in an ETF vs. individual stocks by balancing out some of the high-risk/high-reward new entrants with relatively stable companies that still benefit from the same thematic trend. The space sector is one area where this applies to—from the private space race to commercial satellites that broadcast into our televisions and phones. This note discusses what is really inside the S-Network Space Index (SPACE), which is the underlying index for the Procure Space ETF (UFO).
Most space companies have been around for many years. Many space companies are actually commercial satellite providers or aerospace/defense companies with long operating histories. There are a few newer entrants within the space, but many of these have 10+ years of history and more recently went public via a SPAC merger. The median age of a company by operating history within the index's top ten constituents was 28 years. The median age of a company using public trading history was over 15 years.
---
Content continues below advertisement
Additionally, most companies within the space sector are actually more familiar than one might think. Here is a summary of the top ten constituents and where you might have heard the name.
Maxar Technologies Inc. (

MAXR

) – Maxar provides space solutions and geospatial intelligence. The company helps government and commercial customers monitor the planet, deliver broadband communications, and advance the use of space.
Where you might know it from: Maxar took some of the famous satellite photos from Russia's invasion of Ukraine in early 2022.
Iridium Communications (

IRDM

) – Iridium is a commercial provider of voice and data communications services via its satellite network—the only network that covers 100% of the planet.
Where you might know it from: Iridium and Qualcomm announced a partnership in 2023 to bring satellite connectivity to Android phones. This is similar to Apple's new Emergency

SOS

feature which uses Globalstar (

GSAT

, 3.4% index weight) satellites.
Viasat (

VSAT

) – Viasat provides broadband solutions to enterprises, consumers, and military/government users around the globe via its satellite network.
Where you might know it from: Viasat offers in-flight wi-fi on commercial airlines like American Airlines or Delta Airlines.
Virgin Galactic Holdings (

SPCE

) – Virgin Galactic is an aerospace and space travel company which aims to offer access to space for private individuals, researchers, and government agencies.
Where you might know it from: Virgin Galactic is owned by Sir Richard Branson and is part of the conglomerate Virgin Group. The company became a household name during the private space race along with Elon Musk's SpaceX and Jeff Bezos's Blue Origin.
Rocket Lab

USA

(

RKLB

) – Rocket Lab delivers launch services, spacecraft design services, spacecraft components, spacecraft manufacturing, and other spacecraft and on-orbit management solutions.
Where you might know it from: Rocket Lab launched its Electron rocket in 2022 and plans to be the first private company to reach Venus.
Garmin (

GRMN

) – Garmin offers hand-held, wearable, and portable wireless devices which use

GPS

in markets including fitness, outdoor, aviation, marine, and auto.
Where you might know it from: Fitness wearables and other

GPS

tools.
SES

S.A. (

SESG

FP) –

SES

S.A. is a Luxembourgish video and data connectivity provider through its network of satellites in two different orbits.
Where you might know it from: The company is a major player in the satellite TV in Europe, along with North America, Africa, Latin America, Asia, and the Middle East.
Trimble (

TRMB

) – Trimble is an industrial technology company that enables office and mobile professionals to integrate workflows through hardware, software, and services.
Where you might know it from: Trimble land surveying devices are often seen at land surveying sites. The mobile mapping devices are seen mounted on top of cars (similar to what you see with a Google Street View car).
Eutelsat Communications S.A. (

ETL

FP) – Eutelsat is a French satellite operator that provides broadcast and connectivity solutions.
Where you might know it from: Previously set up as an intergovernmental organization, the company is now a major satellite operator in Europe and the world's third largest satellite operator by revenue.
Planet Labs

PBC

(PL) – Planet Labs uses satellites to image Earth's landmass and collect data to support the environment, agriculture, and supply chains.
Where you might know it from: The company is active in daily imaging of the Earth.
Bottom Line:
Space companies range from commercial satellite companies, aerospace and defense companies, and space tourism companies. While new and emerging companies are certainly a part of the sector, there is also a large majority of the segment that is composed of large, longstanding companies.
For more news, information, and analysis, visit VettaFi | ETF Trends.