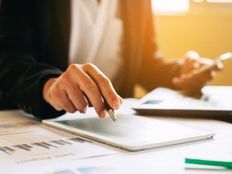 Summit Global Investments has announced the announced the launch of its second exchange traded fund, the (SGLC C+). The actively managed, semi-transparent ETF is designed to help investors achieve market exposure while providing cross-correlation diversification and fundamental downside risk management.
The fund's management team takes a quantitative approach whereby it looks at the downside risk with every potential holding. This can mean anything from a company having accounting issues, to its C-level suite facing misconduct charges, to a firm's location being hit by a flood or hurricane.
"Anything that sets off red flags is really important to us. We'll look at these red flags and avoid them," said SGI's CEO and CIO Dave Harden in a phone interview with VettaFi. "If there's sexual harassment claims or litigation going on, that can cause unquantifiable risk to investors, so we don't hold those companies."
Harden added that SGLC is a core holding that can help investors "go up with the tide" while attempting to "avoid the boats with holes in them."
See more: Summit Global Investments Launches Dynamic Tactical ETF
---
Content continues below advertisement
SGLC is the second ETF the firm has launched this week. On Thursday, SGI announced the launch of its debut exchange traded fund, the SGI Dynamic Tactical ETF (DYTA B-). The active, semi-transparent tactical ETF seeks to participate in rising equity markets while tactically alternating allocations to reduce volatility.
Harden explained that in addition to "providing good return and good exposure at a prudent level of risk," SGI launched DYTA and SGLC to show the viability of semi-transparent active ETFs.
"I think that this active mutual fund universe is going to move towards semi-transparent active ETFs," he said. "They're cheaper and accomplish just as much as a mutual fund."
For more news, information, and analysis, visit VettaFi | ETFDB.