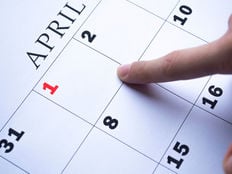 Allianz Investment Management announced new upside caps for the April series of its Buffered Exchange Traded Funds suite. The series includes two ETFs with a 12-month Outcome Period: the (APRT B) and the (APRW B+), as well as the (SIXO B+) with a six-month Outcome Period.
With ongoing market volatility causing persistent uncertainty among investors, AllianzIM's Buffered ETFs provide investors access to versatile risk mitigation strategies. The ETFs are crafted to seek a downside Buffer of 10% or 20% against market drops, while allowing investors the opportunity to participate in the upside potential of the SPDR S&P 500 ETF Trust up to a stated Cap.
"We're increasingly seeing advisors turn to defined outcome ETFs in an effort to support clients that want a more risk-controlled equity exposure experience," said VettaFi's head of research Todd Rosenbluth.
| Ticker / Fund | Reference Asset | Buffer1 | Cap1 | Outcome Period Start Date | Outcome Period End Date |
| --- | --- | --- | --- | --- | --- |
| AllianzIM U.S. Large Cap Buffer10 Apr ETF (APRT ) | SPDR S&P 500 ETF Trust | 10% Gross / 9.26% Net | 18.87% Gross / 18.13% Net | Apr.1, 2023 | Mar. 31, 2024 |
| AllianzIM U.S. Large Cap Buffer20 Apr ETF (APRW ) | SPDR S&P 500 ETF Trust | 20% Gross / 19.26% Net | 12.69% Gross 11.95% Net | Apr.1, 2023 | Mar. 31, 2024 |
| AllianzIM U.S. Large Cap 6 Month Buffer10 Apr/Oct ETF (SIXO ) | SPDR S&P 500 ETF Trust | 10% Gross / 9.63% Net | 8.97% Gross / 8.60% Net | 1-Apr-23 | 30-Sep-23 |
---
Content continues below advertisement
1 Gross reflects the Cap and Buffer prior to taking into account the 0.74% expense ratio of the ETF while Net accounts for the expense ratio, but does not include brokerage commissions, trading fees, taxes and non-routine or extraordinary expenses. The Cap and Buffer experienced by investors may be different than the stated numbers. The funds' website, at www.allianzIMetfs.com, provides important fund information as well as information relating to the potential outcomes of an investment in the Fund on a daily basis.
"Our goal at AllianzIM is simple: to help investors achieve their retirement and financial goals," said Brian Muench, president of AllianzIM. "Our ETFs provide investors the right tools to stay invested in the market, despite unexpected swings stemming from the unsettled macroeconomic environment. The concept has proven popular with investors, with our suite of ETFs recently passing $1 billion in assets under management."
The AllianzIM Buffered ETFs seek to leverage AllianzIM's core strengths, which include risk management experience and in-house hedging capabilities. As part of one of the largest asset management and diversified insurance companies in the world, AllianzIM is powered by the same proprietary in-house hedging platform that is used among affiliates to help manage more than $149 billion (as of 12/31/22) in hedged assets for institutional and retail investors around the globe. Offering a new way to help investors seek to mitigate risk and reduce volatility, these ETFs complement Allianz Life's suite of annuity and life insurance products.
AllianzIM's Buffered ETFs are offered at an expense ratio of 74 basis points. The 12-month Outcome Period of the April series ETFs will be from April 1, 2023, to March 31, 2024. The 6-month Outcome Period will be from April 1, 2023, to September 30, 2023. Each Outcome Period reflects a new stated Cap commensurate with prevailing market conditions, allowing investors to remain invested while seeking a buffer that absorbs the first 10% or 20% of potential losses in the SPDR S&P 500 ETF Trust (gross of fees).
"Many questions remain about the direction of the markets and broader economy. Our ETFs provide investors access to the U.S. equity markets while seeking to mitigate some explicit risk on the downside," said Johan Grahn, head ETF market strategist at AllianzIM. "If the market does rally again, investors will be well positioned to capture potential returns. There's no participation if you are sitting on the sidelines."
For more news, information, and analysis, visit VettaFi | ETFDB.