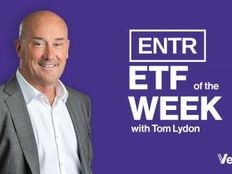 VettaFi's vice chairman Tom Lydon discussed the (ENTR B+) on this week's "ETF of the Week" podcast with Chuck Jaffe of Money Life.
Entrepreneurial companies are on fire, positioning the (ENTR B+) among the rising ETFs.
"This ETF is one of the best-performing ETFs in the first quarter. So I'm just bringing it to the surface as many people are feeling a little bit more comfortable with the market. They're feeling like the Fed might be doing a better job of getting control over inflation," Lydon said. "We've seemed to be past most of the bad news on the banking side, and there's not as much concern about having a really hard landing as far as going into recession."
Lydon said that people are starting to push money back in, emphasizing that it's not all about the S&P 500. During his talk, he shared the story of Joel Schulman, a business owner and professor at Babson College in Massachusetts.
"He has done a lot of research about entrepreneurial companies, not just privately held, but also publicly traded, and went back and created an index where he actually wrapped a mutual fund around it and then after that created an ETF," Lydon said. "He's been able to identify that there are certain characteristics that if a company is run by an entrepreneur, they have a higher probability of being successful over time."
See Also: ETF of the Week: ProShares Bitcoin Strategy ETF
Lydon clarified that this doesn't mean that entrepreneurial companies are less volatile, but instead that they have a better chance of success over time. With that being said, these companies also get beat up in the downturn, he added. However, things may be changing.
"For the first time in a long time, the CTF is just above its 200-day average. So if you're looking to put money that's been on the sidelines back into the market, I think my point is, don't just put it in the S&P 500. Look to other areas, and these areas of the market that have been beaten up now are starting to trend upward — pay attention because they're really good companies," Lydon said.
Jaffe mentioned that ENTR doesn't score well on Lipper, which evaluates the performance of ETFs. To this, Lydon said: "When you look at Lipper and when you look at Morningstar, it's not going to get great ratings because of the volatility and because of the fees. Here's a situation: You could actually replicate the portfolio and buy the individual holdings, but you're not going to do that. It takes too much work, and it's more expensive."
"The idea [is] about entrepreneurship and the success around entrepreneurship with the future and companies that really are on sale and have been on sale for the last 12 months, and if you're feeling a little bit more comfortable about the market and reallocating from maybe short-term bonds or money market funds or value back into some type of growth, this is something to consider."
---
Content continues below advertisement
Listen to This Week's "ETF of the Week" With Tom Lydon Here: