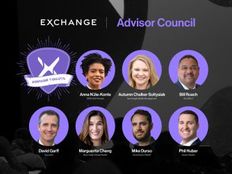 VettaFi continues to transform financial services from an industry into a community, through features such as our biweekly Meet an Advisor column, which profiles financial advisors and gives them a chance to share their story and spotlight their ideas. 
Earlier this week, VettaFi announced the new Exchange Advisor Council, consisting of seven members who are working to make Exchange 2024 the most important conference for financial advisors. The first editions of Exchange featured exceptional networking opportunities and terrific keynotes and speakers, but next year's conference is no longer merely being built for advisors, it's being built by them. 
VettaFi is thrilled to announce that over the next few editions of Meet an Advisor, the Exchange Advisor Council will be interviewed about their work and their plans for Exchange. Afterwards, the column will continue to share the stories of financial advisors. 
Previous editions have included a video interview with HDQ Wealth's Harrison Quinn, Ramona Maior discussing her journey and the pros and cons of going solo or as part of an RIA, and Vance Barse, founder and wealth strategist of "Your Dedicated Fiduciary":https://yourdedicatedfiduciary.com/, whose firm started on Route 26 to the music of ZZ Top. 
We're interested in hearing from you — what kind of topics would you like to see discussed? Are you interested in potentially being featured? Contact us here
For more news, information, and analysis, visit VettaFi | ETFDB.
---
Content continues below advertisement