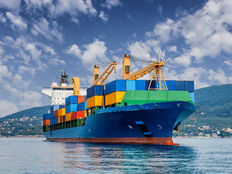 Breakwave Advisors, a New York-based commodity trading advisor specializing in shipping and freight investments, announced in partnership with ETF Managers Group (ETFMG) that the Breakwave Tanker Shipping ETF (BWET ) will begin trading today on the New York Stock Exchange. BWET is designed to provide long exposure to the crude oil tanker shipping market through a portfolio of near-dated futures contracts on indices that measure the cost of shipping crude oil.
Geopolitical tensions have impacted oil flows and shifted traditional shipping routes. Increasing demand and evolving environmental regulations will continue to impact the cost of transporting crude oil globally, creating a potential long-term investment opportunity. BWET provides investors with direct exposure to crude oil freight futures.
"The tanker market has recently shown its growing importance when it comes to energy security as well as the significant returns the sector can generate over the full cycle," said John Kartsonas, founder and managing partner of Breakwave Advisors, in a news release. "Today, the tanker industry is faced with high demand for oil transportation, a limited vessel orderbook, disruptions in the traditional shipping routes, and longer shipping distances as a result of the major geopolitical changes affecting the oil markets."
Kartsonas added: "BWET allows all market participants to directly invest in an otherwise difficult to access market using a simple, transparent, equity-like investment product."
BWET will hold crude oil tanker futures contracts with a weighted average of approximately three months to expiration, using a mix of one- to six-month freight futures, based on the prevailing calendar schedule. The fund intends to progressively increase its position to the next calendar quarter while its existing positions are maintained and settled in cash. The initial tanker crude oil freight futures allocation will be 90% Very Large Crude Carriers (VLCC) contracts and 10% Suezmax contracts, rebalancing annually.
ETFMG's COO Matthew Bromberg added in the news release: "We've seen that investors are seeking exposure to the supply chain. There is an under investment in shipping capacity and crude oil tankers represent nearly one-third of the global shipping transportation capacity."
For more news, information, and analysis, visit VettaFi | ETFDB.
---
Content continues below advertisement