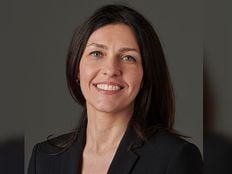 Model portfolio manager Envestnet PMC recently entered the exchange traded fund market with the launch of its four debut ETFs: the ((APUE ), the (APIE ), the (APCB ), and the (APMU ). These ETFs use Envestnet's branded ActivePassive investment philosophy, which consists of passive and factor-based exposures managed by Envestnet, and active exposures managed by third-party investment managers vetted by PMC's research team.
According to Dana D'Auria, co-chief investment officer and group president of Envestnet Solutions, the firm launched the ETFs because the team saw growing investor interest in the wrapper.
"We see on our platform the ETF models garner the majority of the assets versus the open-end mutual fund models," she told VettaFi. "And obviously, investors vote with their feet and made the statement that because of the cost and tax efficiencies, ETFs get the most interest."
D'Auria added: "We watched the landscape, and the market has spoken. There's a clear preference for ETFs."
The Best of Both Worlds
D'Auria said Envestnet's branded ActivePassive investment philosophy uses the "best of both worlds" from both active and passive investment management styles. Although the ETFs are actively managed, they also take advantage of passive strategies' reduced fees and lower trading volumes.
While there's a good deal of research saying that markets are efficient, style anomalies that can be used to outperform, such as low price, higher quality, growth profitability, and momentum, have been identified over time.  Envestnet takes a multifaceted approach whereby different sleeves of these ETFs will be managed differently. However, D'Auria explained that within those sleeves, "it boils down to one asset allocation."
"Our view is that there's opportunity for both active and passive management within an investor's portfolio," she said. "Passive is giving you market beta. That said, if you go with indexing alone, you are ignoring decades of research that says there's the ability to outperform the benchmark."
D'Auria explained that Envestnet is seeing "greater interest in ActivePassive" because "financial advisors don't want to pay active fees just to get beta."
"More than ever, ActivePassive makes a lot of sense in the current market landscape," she added.
For more news, information, and analysis, visit VettaFi | ETFDB.
---
Content continues below advertisement