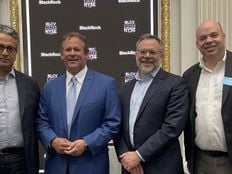 Active ETFs represent just a 6% share of the ETF markets, but advisors are gravitating toward them. The products have emerged as one of the fastest-growing categories within the ETF industry. Indeed, active ETFs now boast over $400 billion in investment. There has also been more than 50% asset growth in the last three years.  
The supply of active ETFs products has also exploded. Some asset managers entered the ETF market in recent years only by tapping into their active management expertise. However, last week's launch of two active ETFs by BlackRock was an eye-catching sign that active ETF growth can persist.  
BlackRock Is the ETF Industry Leader 
With more than $2 trillion in U.S.-listed ETF assets, BlackRock is the industry leader. Most of the assets are in index-based ETFs like the (IVV A) and the (AGG A). BlackRock uses the iShares brand for index-based products to differentiate them from active ones.   
---
Content continues below advertisement
"We are in the very early days of active ETF adoption," explained Rachel Aguirre, head of U.S. iShares product. "But we believe that over the coming years we will begin to see a more significant adoption of active ETFs as building blocks at the core of investors' portfolios." 
BlackRock previously launched active ETFs with success. For example, the (ICSH B) manages $6.3 billion, while the (NEAR A) runs $3.8 billion. Ahead of the Federal Reserve's recent rate hiking program, advisors turned to relatively safe short-term active fixed income products like ICSH and NEAR. However, we think advisors are looking for more.  
"We have been hearing from clients that they're interested in gaining access to our best investors across a broader set of core exposures. We are focused on building our clients an active ETF platform that is comprehensive and complementary to our existing index ETF and active mutual fund suites. Active ETFs represent an important new avenue of choice for our clients. They no longer need to decide between an ETF and active management," added Aguirre. 
BlackRock has tapped two of its top active managers to run unique strategies, leveraging the firm's expertise. 
BlackRock Now Offers an Active Value ETF  
The (BLCV ) is intended to be complementary to the firm's existing value offerings in the index ETF space. Those include the (IVE A), the (IWD A-), and the (VLUE B+). BLCV is managed by Tony Despirito, BlackRock's Global CIO of fundamental equities, who has run a similar strategy for nearly a decade. The active ETF launched with approximately 55 holdings, including top stakes in Cardinal Health, Cisco Systems, and Wells Fargo. Index-based ETFs do not prioritize many such stocks. 
Meanwhile, the (BINC ) is also very different than index-based broad fixed income ETFs. BINC gives investors access to those harder-to-reach fixed income sectors. Rick Rieder, BlackRock's CIO of global fixed income and Morningstar's 2023 Outstanding Portfolio Manager, manages the fund.  
Pairing Active and Index ETFs 
"What we love about BINC is that it is designed to sit alongside core bond holdings within a portfolio. This allows investors to customize how much yield enhancement they want. Pairing BINC with AGG, for example, gives investors the best of index and active together. That makes for a perfect example of how we see investors leveraging the full spectrum of index to active exposures within their portfolios," commented Aguirre. 
BINC's largest bond sectors included collateralized loan securities, emerging markets, and high yield. Indeed, for advisors seeking to combine active ETFs with a core index-based asset allocation strategy, BINC is worth learning about.  
VettaFi agrees with the largest ETF provider and sees a bright future for active ETFs. 
For more news, information, and analysis, visit VettaFi | ETFDB.