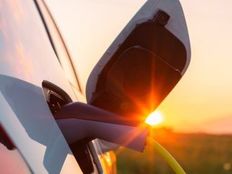 Defiance ETFs has launched the Defiance Pure Electric Vehicle ETF, which targets pure exposure to electric vehicle manufacturers. The ETF provides direct and concentrated access to the fastest-growing EV companies.
The EV market is growing. But while EVs are a crucial part of the sustainable future, it's not always clear which manufacturers will come out on top.
EVXX seeks to track the performance of the Solactive Pure US Electric Vehicle Index. The five largest electric vehicle manufacturers by market cap make up the index. The shares are equally weighted on a quarterly basis.
See more: Electric Vehicle Sales Are Revving Up
---
Content continues below advertisement
According to Defiance, 14% of all new cars sold were electric in 2022, up from 9% in 2021. There are more than 26 million electric cars worldwide as of 2022, 60% more than in 2021. Defiance expects EV sales to grow 35% this year, and projects revenue to reach $561.3 billion in 2023.
Defiance ETFs CEO Sylvia Jablonski said in a statement that EVXX fills an investor demand "for a pure EV ETF." EVXX "captures this emerging megatrend without diluting the purity of the product with traditional semiconductor and auto stocks," Jablonski added.
"Advisors have consistently dedicated a single-digit percentage of their client assets to thematic ETFs like electric vehicles," said Todd Rosenbluth, head of research at VettaFi. "Many funds are so diversified that you cannot get targeted exposure. That is what makes the launch so compelling."
EVXX carries an expense ratio of 0.68%.
For more news, information, and analysis, visit VettaFi | ETFDB.