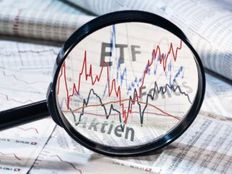 This was a busy week in the ETF industry, with both Fidelity and T. Rowe Price rolling out families of five actively managed ETFs. There were additional launches from firms like Aptus, Defiance and Simplify during the week as well. A total of 15 new ETFs debuted during the week.
Those launches included the Tuesday rollout of Armada ETF Advisors' Private Real Estate Strategy via Liquid REITs ETF will provide investors with access to strategies that are used by leading private REIT funds. It will invest primarily in publicly traded REITs and mortgage-backed securities. PRVT has an expense ratio of 0.59% and lists on the Nasdaq stock market.
On Wednesday, Aptus Capital Advisors debuted the Aptus Large Cap Enhanced Yield ETF, which invests in a combination of large-cap U.S. stocks and equity-linked notes. The fund managers select the equities, which represent the bulk of DUBS' portfolio, based on their liquidity and growth prospects. Meanwhile, the ELNs represent about 10% of the fund and replicate the performance of an equity index paired with a call option strategy. As such, they generate interest income for the overall portfolio.
DUBS has an expense ratio of 0.39% and lists on Cboe Global Markets.
Closures
The year's wave of ETF closures grew even bigger as several fund shutdowns were initiated or completed during the week.
On Monday, three LifeGoal ETFs saw their last day of trading. The affected funds are as follows:
Thursday was the last day of trading for three ETNs issued by UBS. The affected products include the following:
And Friday is the last day of trading for a selection of leveraged and inverse plays on individual securities offered by AXS Investments and GraniteShares. Those funds are as follows:
Another two AdvisorShares ETFs are scheduled to shut down after the close of trading on June 23. The (CRYP ) and the (UAV ) are both actively managed thematic funds.
Amplify will shutter its (BIDS C+). The fund will cease to trade after the market close on July 5. Finally, the (HEET B+) will see its last day of trading on July 21.
---
Content continues below advertisement
Other Changes
On Monday, the (DWMC C) changed its name to the AdvisorShares Dorsey Wright Small Company ETF.
Notable Filings
While the news that iShares had filed for a physical bitcoin ETF dominated the filings for the week, there were several prospectuses proposing new funds of note.
BlackRock had another significant filing with the BlackRock Advantage Large Cap Income ETF, a fund that looks like it will compete directly with the $26.6 billion (JEPI A). The fund will pair a portfolio of large-cap stocks with call options on major indexes.
Toroso Investments and ZEGA Financial have teamed up to create three actively managed ETFs that will provide the performance of put options strategies tied to the Nasdaq-100 Index, the S&P 500 Index and the Russell 2000 Index, respectively.
Meanwhile, KraneShares filed for the KraneShares Global Luxury Index ETF, which will invest in companies in developed countries that have luxury-related business operations.
Finally, Direxion, the issuer that has had the most success with leveraged and inverse single-stock ETFs, has filed for the Direxion Daily NVDA Bull 1.5X Shares. None of its current single-stock ETFs provides exposure to NVIDIA's stock.
For more news, information, and analysis, visit VettaFi | ETFDB.