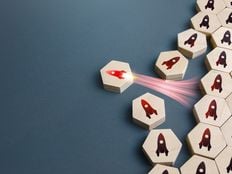 PIMCO has expanded its lineup of exchange traded funds with the launch of two active fixed income ETFs. The funds aim to harvest attractive yields by seeking historic opportunities in credit markets and short-term U.S. government securities, respectively.
The (PYLD ) selectively targets multi-sector global fixed income assets across various sectors. The (BILZ ), meanwhile, primarily invests in short-term U.S. government related debt.
The benchmark agnostic PYLD emphasizes strategic or long-term investments to maximize yield potential while seeking long term capital appreciation. PYLD aims to have diversified exposure to credit markets including investment grade and high-yield bonds, among other assets.
---
Content continues below advertisement
Seeking Long-Term Opportunities in a Less Certain World
PIMCO's Group CIO Dan Ivascyn will lead the team managing PYLD. Ivascyn believes "the dramatic repricing of fixed income markets over the last 18 months is the beginning of… a secular shift in global markets."
This "less certain, less synchronized world creates tremendous opportunities for flexible, multi-sector investors with a long-term investment horizon," Ivascyn said. "The rapid rise in short-term rates… has also disrupted traditional ways of investing cash."
BILZ is designed for investors looking to move out of traditional cash investments. The fund targets high quality U.S. government related short-term assets and cash. It aims to maximize yield while also preserving capital.
"These two additions to our ETF line-up reflect our patient and deliberate approach to creating new products," said Greg Hall, managing director and head of PIMCO U.S. Global Wealth Management. "Our philosophy is to introduce ETF solutions where we see long-term investment opportunities, and where we are confident we can add value for our clients."
PYLD and BILZ join PIMCO's lineup of active bond ETFs that include the (BOND B), the (LDUR B-), and the (MINT A-).
"PIMCO has been a pioneer in the active ETF industry," said VettaFi's head of research Todd Rosenbluth. "They have a well-respected brand in wealth management and demonstrated value added with active strategies."
For more news, information, and analysis, visit VettaFi | ETFDB.