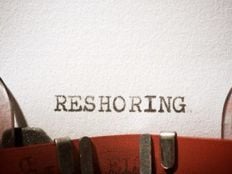 Following the supply chain disasters which haunted the global economy during the initial years of the COVID-19 pandemic, the U.S. is reshoring manufacturing. Several factors are spurring this reshoring effort: President Biden's Inflation Reduction Act and Infrastructure Investment and Jobs Act both contain substantial funds earmarked to revitalize manufacturing and infrastructure.
Additionally, a growing rift between the U.S. and China and broader macroeconomic trends are conspiring to deglobalize the economy. With China's grasp on being the epicenter of global manufacturing slipping and the enormous investment in U.S. reshoring, America could become a manufacturing powerhouse.
CEOs Are All-In On Reshoring
In Q2, 71% of CEOs reported a belief that America's manufacturing capacity could address world supply concerns. Up from 64% in the prior quarter. "CEOs are optimistic about the future of American manufacturing and business in general," said Xometry CEO Randy Altschuler in an interview with Bloomberg last April.
The headwinds in U.S. manufacturing are enormous. Half of American CEOs were looking to reshore operations in this year, with 70% investing in automation, digital workflows, and R&D. "Major legislation like the CHIPS and Science Act, the Inflation Reduction Act, and the Infrastructure law helped buoy reshoring in 2022, and we expect that trend to accelerate in 2023 as companies further build supply chain resilience," Altschuler noted.
---
Content continues below advertisement
The Next Big Investment Theme
Reshoring could become an important investment theme, and investors who investigate companies that are likely to benefit from the U.S. manufacturing resurgence could find enormous opportunities. Investors looking to take advantage of the structural reshoring trend can join a webcast from the experts at Tema ETFs on Tuesday, June 27th at 1 pm EST to learn more. The speakers include VettaFi Vice Chair Tom Lydon, Tema Reshoring ETF Portfolio Manager Chris Semenuk, and Blue Chip Partners Director of Investments Dan Dusina.