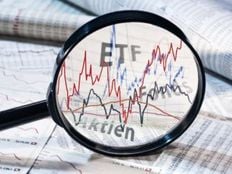 The week ending June 30 was marked by some key launches and a continued stream of ETF closures. In all, the ETF industry gained 13 new products.
BlackRock stormed into the defined outcome ETF space with two funds that offer buffered exposure to the price performance of the iShares Core S&P 500 ETF (IVV A) via flexible exchange options. However, BlackRock is offering its own take on the concept as the two funds reset quarterly rather than annually. They are also priced very aggressively with expense ratios of just 0.50%. Most defined outcome ETFs charge upwards of 79 basis points.
A Strong Week for Launches
---
Content continues below advertisement
Closures Remain Steady
The biggest development in closures during the week is the announcement that the lineup of Emerge EMPWR ETF family will close in July. The five funds are as follows:
The funds debuted less than a year ago in September 2022 and featured exclusively female managers. They will cease to trade before the market opens on July 10.
While the Constrained Capital ESG Orphans ETF (ORFN B) closed during the week, there are several other ETFs expected to close in July. The Amplify Digital & Online Trading ETF (BIDS C+) will shutter as of July 5, while the Senior Secured Credit Opportunities ETF (SECD B) will have its last day of trading on July 13.
The FlexShares ESG & Climate High Yield Corporate Core Index Fund (FEHY B+) will see its last day of trading on July 11, while the Fount Metaverse ETF (MTVR C) will cease to trade after the market close on July 25
Finally, the ALPS Hillman Active Value ETF (HVAL C) will close near the end of the month, and trading will cease before the market opens on July 28.
Other Changes
There were also several name changes taking place during the week. The FIS Biblically Responsible Risk Managed ETF (PRAY B) is now known as the FIS Christian Stock Fund. Meanwhile, the FolioBeyond Rising Rates ETF (RISR B-) changed its name to the FolioBeyond Alternative Income and Interest Rate Hedge ETF.
The Nuveen Enhanced Yield 1-5 Year U.S. Aggregate Bond ETF (NUSA B+) changed its name to the Nuveen ESG 1-5 Year U.S. Aggregate Bond ETF, while the Principal U.S. Small-Cap Multi-Factor ETF (PSC B) became the Principal U.S. Small-Cap ETF.
For more news, information, and analysis, visit VettaFi | ETFDB.