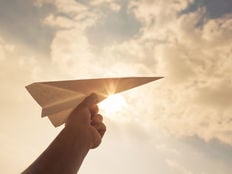 The fund tracks the Cboe DJIA Half BuyWrite Index. The index measures the performance of a covered call strategy that holds a theoretical portfolio of the Dow's underlying stocks. It sells a succession of one-month at-the-money covered call options on the Dow.
The index reflects the performance of the Dow's component securities, combined with written (sold) at-the-money call options corresponding to half their value.
As a covered call & growth strategy, DYLG writes calls on only half of the portfolio. This allows investors to still capture half the upside potential of the underlying index.
---
Content continues below advertisement
The Federal Reserve's rate hikes have heavily impacted U.S. markets in recent months. Economic data surrounding inflation and labor market strength have also spurred uncertainty in equity and fixed income markets.
But with rate hikes possibly nearing a plateau, forward-looking investors may want to balance their income and growth potential. They may seek to capture some longer-term market upside while still enjoying wider premiums from today's elevated volatility.
Covered call strategies can offer a diversified potential source of income while potentially mitigating downside risks. Historically, these strategies required investors to trade options themselves. But the availability of ETFs that incorporate covered call strategies can help investors efficiently add these strategies to their portfolios.
DYLG expects to make distributions on a monthly basis.
Navigating Choppy Waters With Covered Call & Growth Strategies
Global X's director of research Rohan Reddy said covered call & growth strategies "navigate choppy markets while maintaining some upside potential."
"By buying the stocks in the Dow Jones, DYLG can help achieve a balance between growth and income while also helping investors diversify away from other major domestic indices," Reddy added.
DYLG joins a suite of covered call funds that include the (QYLD A-) and the (XYLD A+).
"Advisors have sought out covered call strategies even as the stock market has rallied in 2023," said Todd Rosenbluth, head of research at VettaFi. "These equity ETFs provide enhanced income and downside protection."
For more news, information, and analysis, visit VettaFi | ETFDB.