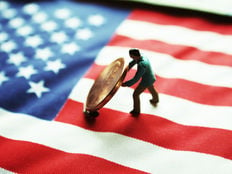 Disabled veteran-owned and operated manager Academy Asset Management on Wednesday launched its debut ETF on the New York Stock Exchange. The +Academy Veteran Impact ETF+ (VETZ ) targets loans to U.S. service members, military veterans, their survivors, and veteran-owned businesses.
According to Academy's chief investment officer Seth D. Rosenthal, the firm originally offered the strategy as a separately managed account. But due to client demand, Rosenthal said that the firm felt "it was an opportune time" to launch the ETF.
See more: VETZ ETF Invests in Loans to Veterans and Service Members
Facilitating the Flow of Capital to Veterans
Rosenthal explained that service members and veterans face unique challenges when seeking credit. For example, service members are given a housing stipend if they don't live on base housing. However, these stipends may not cover the costs for service members with families.
"On the mortgage loan side, it's a critical tool to help service members achieve home ownership," he said.
With regard to small business owners, accessing capital is their most commonly reported challenge. While these service members bring decades of skills to a small business, "that may not necessarily translate well to the underwriting process," Rosenthal said.
So, VETZ facilitates the flow of capital to veterans, resulting in lower borrowing costs for veterans and their families.
"We think it impacts the veteran community by enabling home ownership and financing small businesses," Rosenthal said.
---
Content continues below advertisement
Pairing Military Veterans With Wall Street Veterans
Rosenthal told VettaFi that VETZ ties into the firm's mission of providing opportunities for veterans.
"It aligns to our social mission to mentor and hire and train veterans for careers on Wall Street," he said. "As this ETF grows in AUM, we'll be hiring more veterans across front-, middle-, and back-office roles."
As part of its mission, the fund manager pairs veterans with Wall Street veterans for mentorship. "The goal is mentoring, hiring, and training military veterans for careers on Wall Street," Rosenthal explained. "It's about doing the right thing for people who raised their hands to serve their country."
Added Rosenthal: "We think veterans have a number of transferable skills that translate well to Wall Street." He cited such skills as teamwork, integrity, loyalty, working well under pressure, and attention to detail.
Rosenthal also noted that the firm will donate a portion of VETZ's management fee to military charities.
For more news, information, and analysis, visit VettaFi | ETFDB.