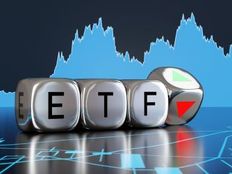 Goldman Sachs' brand new ETF Accelerator business is starting off strong with three well-known firms already on board to enter the ETF arena for the first time. GMO, Eagle Capital Management and Brandes Investment Partners all have filings in with the SEC for individual ETFs via the independent 2023 Series Trust.
Recent Filings
GMO is the asset management firm co-founded by Jeremy Grantham, who helped develop one of the first index funds. His firm has roughly $60 billion in assets under management and has not previously launched any ETFs. Its filing for the GMO U.S. Quality ETF (QLTY) outlines plans for an actively managed fund that will invest in U.S. companies demonstrating strong quality characteristics.
Eagle Capital Management has filed for the Eagle Capital Select Equity ETF (EAGL). The firm is a well-known asset manager with more than $20 billion in assets under management. The proposed actively managed ETF will target undervalued equities.
The same filing for the Eagle Capital Management fund also included three funds planned by Brandes Investment Partners. Brandes is an advisory firm with more than $17 billion in assets under management. The filing describes plans for three actively managed ETFs, including a small- and midcap U.S. value fund, a U.S. value fund that can invest across the size spectrum and an international developed markets fund that will invest primarily in mid- and large-cap equities.
Interestingly, the Goldman Sachs name does not feature prominently in the filings. Further, the fund documents only mention Goldman as a consultant to the funds' respective advisors. The first filings were made in June. That means we could see the first funds from Goldman's white label issuer launching late this summer or early fall.
For more news, information, and analysis, visit VettaFi | ETFDB.
---
Content continues below advertisement