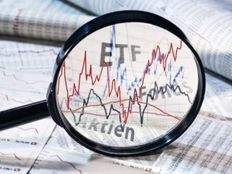 Additional ETF Launches
Direxion launched two more single-stock ETFs during the week, offering 1x inverse and 1.5x leveraged exposure to Nvidia's stock. The Direxion Daily NVDA Bear 1X Shares (NVDD ) and the Direxion Daily NVDA Bull 1.5X Shares (NVDU) both list on the Nasdaq stock market and have expense ratios of 1.07%.
Amplify jumped on the free cash flow train started by the now $15 billion Pacer US Cash Cows 100 ETF (COWZ A) with the launch of the Amplify Cash Flow Dividend Leaders ETF (COWS). COWS tracks an index that pairs a focus on free cash flow with dividend growth characteristics. Amplify waived the fund's 0.39% expense ratio for the next year. It lists on the Nasdaq stock market.
Meanwhile, J.P. Morgan rolled out two actively managed ETFs as the week wound down. The JPMorgan International Value ETF (JIVE) invests in companies outside the U.S. that have what the prospectus terms "attractive valuations." The JPMorgan Global Select Equity ETF (JGLO) focuses on developed markets and invests in stocks with compelling valuations, above-average free cash flow, and the potential for consistent earnings growth. JIVE and JGLO have expense ratios of 0.55% and 0.47%, respectively. Both list on the Nasdaq stock market.
Defiance debuted the Defiance Nasdaq 100 Enhanced Options Income ETF (QQQY), which applies an options strategy to the Nasdaq-100 that allows some participation in the index's upside performance and provides income. The fund has an expense ratio of 0.99% and lists on the Nasdaq stock market.
Finally, the actively managed Bushido Capital U.S. Equity ETF (SMRI) launched on the Nasdaq stock market. The fund selects a portfolio of 30-50 holdings based on fundamental analysis. It has an expense ratio of 0.71%.
---
Content continues below advertisement
Closures
The constant trickle of ETF closures continued during the week, with four new fund shutdowns announced and the completion of another closure.
The Long Cramer Tracker ETF (LJIM ) ceased to trade after the market close on Monday, while the JPMorgan ActiveBuilders U.S. Large Cap Equity ETF (JUSA B) no longer trades as of the market close on Wednesday. Additionally, the VanEck China Growth Leaders ETF (GLCN B+) will see its last day of trading on September 20.
On Tuesday, Franklin Templeton announced that it would shutter three of its single-country ETFs, with trading set to halt after November 10. The affected funds include the following:
Other Changes
Two ETFs acquired new names during the week. As of Wednesday, the Changebridge Long/Short Equity ETF (CBLS ) is known as the Clough Long/Short Equity ETF, while the Changebridge Select Equity ETF (CBSE C) changed its name to the Clough Select Equity ETF.
For more news, information, and analysis, visit VettaFi | ETFDB.