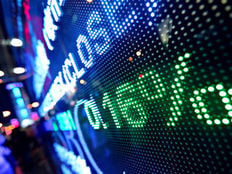 The United States Natural Gas Fund (UNG B-) is not only one of the most popular commodity ETFs in the world, but one of the most popular ETFs period. The fund, which tracks natural gas futures, has been a coveted trading instrument since it debuted in 2007.
One of the reasons that UNG has become such a heavily-utilized vehicle is because the fund is well-known for exhibiting high volatility on a day-to-day basis; that makes it an ideal tool for active traders.
UNG and the EIA: Natural Gas Under the Microscope
One of the biggest movers for UNG and natural gas itself is the weekly EIA (Energy Information Administration) Natural Gas Storage Report. This report comes out every Thursday and keeps tabs on U.S. supplies and storage of the commodity. You can learn more about the report by clicking here.
Storage figures are a big mover for the fossil fuel, as they give traders a peek into the supply/demand chain for the nation. Depending on how those numbers turn out, UNG typically makes a big spike in either direction. We took a look at 38 weekly reports from 2014 and compiled the data to get a better idea of just how important this weekly report is for UNG. Here are the results:
---
Content continues below advertisement
| UNG and Storage Reports | Metric |
| --- | --- |
| Performance Range | -9.28% – 6.11% |
| Positive Reaction vs.Negative Reaction | 18 vs. 20 |
| Average Movement | -0.30% |
| Average Absolute Movement | 2.18% |
Of the 38 weeks of data, UNG saw 18 positive sessions and another 20 that were negative. Though its average performance on those days came out to be slightly negative, looking at the average absolute movement gives you a better idea for just how volatile every Thursday is for the ETF. On average, UNG moves approximately 2.18% in some direction when reacting to the data; even by this fund's standards, that is quite a significant fluctuation.
Investors will also notice that the performance range covers an extensive 15%, as it has had some pretty severe reactions during these months. Below, we take a look at its three best and three worst performance following the EIA report and why UNG behaved the way it did.
Be sure to also see read Controlling Risk with ETFs.
The Best Reports
Here are the three best UNG performances following an EIA Natural Gas Storage Report:
2/13/2014: Inventories were predicted to drop by 234 billion cubic feet (bcf) but fell more than expected, showing a contraction of 237 bcf in storage levels. That triggered prices to spike 6.1% as it showed that demand was higher than anticipated for the fossil fuel.
4/17/2014: NG storage was predicted to have increased 35 bcf for this week, but increased by just 24 bcf instead. That meant that more NG was being used around the country and sent prices on a nice 4.2% spike for the trading day.
6/12/2014: Analysts expected inventories to show an increase of 111 bcf for the week, but the number showed a gain of 107 bcf by comparison. The news of healthy demand for NG sent UNG 5% higher on the day.
The Worst Reports
Here are the three worst UNG performances following an EIA Natural Gas Storage Report:
1/9/2014: Inventories were expected to show a drop of 147 bcf, but instead dropped 157 bcf. This would typically cause worry over a shortage and spike prices, but on this day UNG dropped 3.9%. It should be noted that this came at a time when the weather was experiencing wild swings, which may have been behind the peculiar reaction.
1/30/2014: Inventories actually fell 5 bcf more than expected on this day, but UNG still got slaughtered, falling more than 9%. Despite inventories falling, temperatures were predicted to rise over the coming days and finally break the arctic cold that covered much of the lower 48 states.
5/8/2014: Analysts predicted inventories to rise by 71 bcf, but instead they increased by 74 bcf. The unexpected jump in storage levels showed a demand glut and sent UNG down 3.5% on the day.
The Bottom Line
The weekly EIA report is released every Thursday at 10:30 EST, upon which you will always see UNG have a swift reaction. Active traders will want to keep their eyes glued to the EIA website for the release, but even by the time you are able to read and digest the numbers, UNG has already jumped, as the major players have begun making moves.
Follow me on Twitter @JaredCummans.
Disclosure: No positions at time of writing.