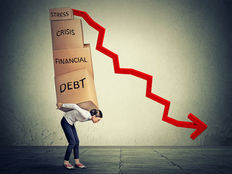 Despite the upward-sloping nature of the market over time, there are periods so volatile that even the most seasoned investors can get discouraged.
This article outlines three simple, but powerful, tips for surviving unfriendly markets characterized by choppy, volatile and generally unfavorable trading conditions.
1. Trade Less
When equity markets start sliding and volatility picks up, your best bet might be to wait on the sidelines rather than pounce on a trade. Why? Unless you're an experienced trader, you are more likely to get burned if you try to turn a quick profit during volatile market periods. For starters, timing your entry can be hard enough as it is in the market – but doing so during chaotic times on Wall Street is a recipe for disaster.
Without a proper entry, your odds of successfully managing a trade through the ups and downs are reduced right from the start. Just because we've all heard the adage "buy when there's blood on the streets," it doesn't mean you should attempt it at every market crash.
Remember, sometimes the best trades can be the ones you didn't make.
---
Content continues below advertisement
2. Trade Smaller
Choppy conditions and range-bound indexes can, at times, entice many to jump into seemingly solid swing trading setups, whether that's buying a breakout or selling a breakdown. The problem is that many reliable setups won't follow through with the same consistency when there is not a clear "risk-on" appetite driving the market.
Avoid the temptation altogether and remember that volatile markets can shakeout even those with a disciplined stop-loss strategy in place. If you set your stop-loss too far from the entry price, you might incur a steep drawdown – but if you set it too close, you run the risk of getting stopped out way too frequently and bleeding your account.
So what can you do to better manage risk in unfriendly markets? The quick answer is: trade smaller. Put another way, reduce your position size. Why? Because this way you tie up less capital to begin with, thereby risking less. Utilizing a stop-loss can get you kicked out of trades prematurely, or not quick enough, during volatile markets.
3. Stay in Your Risk Comfort Zone
If the market is dragging sideways, or drifting lower, don't try to make up for the lack of investment opportunities by taking on excessive risk.
For instance, income-oriented investors may find themselves chasing high-yield stocks only to make up for the lack of dividend opportunities. Traders, on the other hand, may find themselves buying leveraged ETFs to make up for the unfavorable risk/reward setups they are faced with.
Whichever the case may be, if the market is not offering opportunities that fall in your "sweet spot," don't overstretch and look for them in places you otherwise wouldn't (be it in asset classes or strategies outside your comfort zone).
The Bottom Line
One of the best things to do when the market is unfriendly is to step back and trade less. Use this time to research your next trade instead of grasping at risky trading opportunities you normally wouldn't approach. Don't forget that some of the most valuable strategies in your toolbox are not investment vehicle-related at all – they are discipline, preparation and patience.