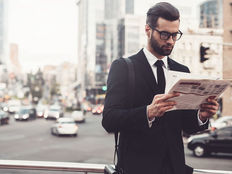 Every week, we bring you the best and most succinct curation of must-read articles to help you grow your investment advisory practice. More than a dozen hours of weekly reading by industry veteran Kristan Wojnar boils down to these three non-negotiables for your reading list. Want to grow your practice? Bookmark our practice management center and make these pieces a weekly staple.
This week we highlight three topics to help you build deeper, more meaningful client relationships in your business: saying thank you, building trust during times of grief and driving client loyalty. In the first piece, the author provides great ideas to thank your clients this Thanksgiving season. The next piece urges advisors to demonstrate you understand your widowed clients' grief. It provides insightful tips to best serve them and build their trust. Our final piece tackles the critical factors that drive client loyalty and create clients who advocate for your business.
With Thanksgiving and the holiday season approaching, this is a great read to help you create thank you notes that stand out for your clients.
Do your widowed clients trust you? Demonstrate you understand their grief and try these five steps to serving them.
What factors drive client loyalty? These strategies may help you create clients who refer.
Happy reading, and talk to you next week when we'll bring more of the best tools and tactics to outperform your peers and grow your business.
---
Content continues below advertisement