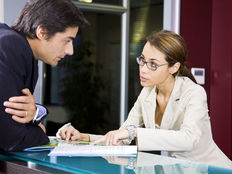 Do you ask your clients and prospects questions that are truly powerful? Are you genuinely curious to learn everything there is to know about your clients?
Mastering asking your clients and prospects powerful questions truly is an art. But it really does pay to ask them the right questions.
Asking meaningful questions uncovers who your clients really are as people and not just what assets and possessions they have. After all, who they are is far more important than what they have.
Your Discovery Process
Like every advisor, you probably have a set of specific discovery questions you ask every new client and prospect.
However, chances are your discovery questions focus a lot on assessing things like their risk tolerance, income and current assets.
While uncovering these answers is certainly important, it is important that you do not lead with questions of this nature. Instead, ask them powerful questions that are open-ended to get them engaged.
By taking this approach, you will uncover a great depth of meaningful knowledge about them, while gathering the other important details you need. You will also establish deep connections and build rapport more quickly.
---
Content continues below advertisement
Sample Powerful Questions
Powerful questions will leave an impression on your clients and prospects. They are impactful and provide clarity. The following are ten powerful questions to start using with your clients and prospects in your next meeting.
What does wealth mean to you?
What is your earliest money memory?
What was your first job and how did it impact you, as well as the career you chose?
What charity is most important to you and why?
Who has taught you the most about money and why?
What is the biggest money mistake you have made?
What three values are most important to you and why?
How do you want to be remembered?
What do you want to add to your family's legacy and why?
It's a Tuesday morning and you are retired. What will the day look like?
If you already have an inventory of powerful questions you ask your new and established clients, add these to the list. Keep a running list of powerful questions and strive to continually add to it.
First Ask, Then Listen
Once you begin introducing powerful questions to your clients and prospects, remember to take the time to listen! While it can be easier said than done, let your clients and prospects do the majority of the talking.
What is a good rule of thumb to follow? If you are in an hour meeting with a client or prospect, you should talk for 15 minutes and they should talk for 45 minutes.
Be sure your body language reflects that you are listening. Maintain eye contact and a posture that shows you are attentive and focused on their responses. Use non-verbal cues such as head nodding and facial expression.
Enjoy the Silence
In addition, don't be afraid of silence – enjoy it! When you are asking powerful questions, it may cause your clients and prospects to pause and reflect. There may be silence. This is a good thing!
Chances are they haven't been asked questions like these before. You are getting them to think about and articulate to you about profound areas of their lives. If the silence becomes too long or uncomfortable, instead try asking a clarifying question or rephrase your original question. Don't rush them.
Odds are also high that they have never been asked powerful questions like these from other financial professionals before. This is a significant way to stand out from your competitors and set yourself apart.
Genuine Curiosity
When asking powerful questions, you must be genuinely curious and want to know the answers to the questions. Take note. Don't just ask the questions without genuinely caring and being interested in their responses. You can't fake curiosity.
If you have young children or grandchildren, you know they are constantly asking questions. They are truly curious about everything around them. Think back to your own youth and how curious you were about the world around you. Unfortunately, as adults, we sometimes lose our ability to be genuinely curious.
Tell Them What You Heard
Take the time to repeat their responses back to them to clarify you heard them.
If you need to, take notes. This demonstrates to them that what they have to say is important.
The Bottom Line
In short, curiosity is our natural desire to learn more.
What better way is there to discover more about who your clients and prospects are than being genuinely curious about them? Asking them powerful questions will make an impact on your clients as well as to your overall business.