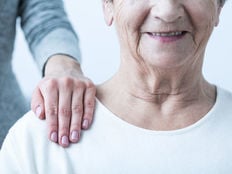 It's an extremely devastating disease.
More than five million Americans are currently living with Alzheimer's, and by 2050, the number could rise to 16 million. One in every three senior citizens dies with Alzheimer's or another form of dementia. Even more astounding, someone in the U.S. develops Alzheimer's every 66 seconds.
With these massive numbers, chances are very high you either already are or will soon be helping clients and family members confronting this terrible disease.
Do You Feel Prepared?
A study from InvestmentNews indicates that two-thirds of financial advisors currently are working with a client or family member with some sort of dementia. Of those advisors, only half feel they are really prepared to help those clients.
Are you currently working with clients or family members who suffer from Alzheimer's or dementia? Ask yourself honestly, how prepared do you feel?
There's no two ways about it. The emotional, physical and financial burden is tremendous for all of those family members involved in an Alzheimer's diagnosis. It is critical for financial advisors to educate themselves and prepare as much as possible to assist their current and future clients who are diagnosed with Alzheimer's disease and dementia.
---
Content continues below advertisement
The Financial Toll
This year alone, Alzheimer's and other dementias will cost the U.S. $259 billion. The costs may rise to $1.1 trillion by 2050. Alzheimer's and dementia place a huge financial weight on the economy, as well as to those patients and families who are diagnosed with it.
Data from the Alzheimer's Association states that in 2016 the average per-person out-of-pocket cost for patients with Alzheimer's and other dementias were almost five times greater than average per-person payments for senior citizens without Alzheimer's or dementia. The cost of end-of-life caring is significantly more for Alzheimer's patients than those with cancer or heart disease.
Some studies indicate an Alzheimer's diagnosis can potentially double the amount of money that a couple needs to save for retirement. It may cause your clients to be stretched financially now and into the future with the continued rising cost of health care, if they are not prepared.
Your role as their financial advisor is vital in helping your Alzheimer's clients and their family members get a handle on their expenses, liabilities, insurance policies, as well as their income and assets. Matter of fact, your role of helping them get their finances in order might be just as critically important as getting their healthcare team assembled.
Creating an Overall Care Plan
Your job is particularly important in the early stages of the diagnosis because the client still has the capacity to legally make decisions about their finances, as well as their overall care on their own.
In the early period of their diagnosis, as their advisor, you should recommend that the family quickly work to put an agreed upon care plan together which encompasses the client's finances, as well as their overall health care. The earlier it is done, the greater the chance the client with Alzheimer's can participate in putting the plan together so his or her wishes can be carried out.
Things that should be decided upon include making an informed decision on who will be the primary caregiver for the Alzheimer's client. Will it be it a nurse or a family member? Also, will the client stay in his or her home or will plans be made to move the Alzheimer's patient to an assisted-living facility, memory-care center or nursing home? These decisions, of course, are all very emotional ones, as well as having a significant financial impact.
In addition, the family needs to be sure all the necessary legal paperwork is in order. This includes identifying the appropriate family members as fiduciaries. This is imperative.
The Signs
Alzheimer's disease is progressive. Early on, memory loss is mild, however, late-stage Alzheimer's patients lose the ability to carry on a conversation and respond to their environment. Their reflexes become abnormal and muscles become rigid.
It is important to educate yourself on the signs of Alzheimer's disease so that you aware. Usually, one of the most common early signs is trouble with managing money, so this puts you as their financial advisor at the forefront.
At its onset, early Alzheimer's and dementia patients will often deny the memory problems they are having. They may make jokes or answer a question they don't know with a question. They may have trouble doing once familiar tasks.
Resources
There are many excellent resources available to prepare yourself and to get educated on this debilitating disease, which unfortunately still has no cure.
A tremendous overall resource is the Alzheimer's Association. Your practice may want to consider joining the Alzheimer's Workplace Alliance, through the Alzheimer's Association. They also have a newsletter you can sign up to receive.
The National Institute on Aging, AARP, and Eldercare.gov are also great resources. You can recommend these resources to the caregivers and family members of your Alzheimer's clients as well.
The Bottom Line
No one wants to discuss planning for Alzheimer's and dementia. As an advisor, it may feel uncomfortable to bring this topic up with clients because of the worry it evokes. But, don't ignore it. The statistics are far too alarming.
Addressing the topic early and planning for the unforeseen is wise. While it won't take the emotional or physical burden away, it will ease the financial burden and help to avoid increased difficulties down the road.